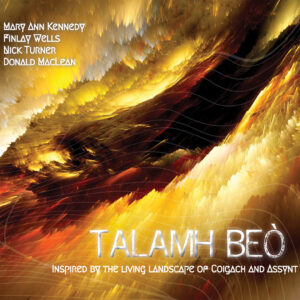 Congratulations to Talamh Beò – Mary Ann Kennedy, Finlay Wells, Nick Turner & Donald Maclean who has been nominated in Original Work of the Year sponsored by Gordon Duncan Memorial Trust in the MG ALBA Scots Trad Music Awards 2022. Vote for Talamh Beò – Mary Ann Kennedy, Finlay Wells, Nick Turner & Donald Maclean now!. It's going to be another great night at the MG ALBA Scots Trad Music Awards on Sunday 4th December in Dundee's Caird Hall. Why not join us for a brilliant night of music and awards. Buy a ticket here.
We asked Mary Ann of Talamh Beò – Mary Ann Kennedy, Finlay Wells, Nick Turner & Donald Maclean the following questions.
Tell us about yourself
'Talamh Beò' (Living Land) was made possible by the Coigach and Assynt Living Landscape project, who commissioned Mary Ann Kennedy, Nick Turner, Finlay Wells and Prof Donald MacLean to create an album's worth of new music that drew on the people, place, history, land and seascape of a spectacular part of the north-west Highlands. A place where the Gaelic language is inextricably woven into the human landscape, and where the physical landscape tells the history of the rocks themselves, oldest on the planet.
The residency commission was awarded just weeks before the national lockdown in March 2020, leaving commissioners and musicians alike in a quandary. But all decided to press on, and the project was to prove a lifesaver for the four professional musicians and writers during the lean times of the pandemic. Even though the four of were unable to reach Coigach and Assynt from their bases of isolation in Lochaber and Argyll, they worked hard to create this new music together.
From each other's studios, they played with bathometric data to create new melodies, harmonies, rhythms; they mentally climbed the hill to the Bone Caves to sing into their reverberation; they spoke to local folk on the ubiquitous Zoom to try and find the energies of the inbetween spaces of cooperation and of conflict, of new arrival and long-established, of minoritised and dominant.
And then for three perfect days in August 2020, 151 days since the world had changed, they headed north and west to make it real. So much to do, and so little time – the four hadn't seen each other, let alone others, for the longest time, and the need to make the collective and the ideas knit together into this new music was overwhelming. The quartet gloried in it all, and it helped them through the following reclosings until they finally had the music and song that they wanted to share with the world.
Talamh Beò are so grateful to Blas Festival, and to CALLP, for enabling them to create the music and words in the first place, and for giving the collective the chance to play it live for the first time at Blas 2022. Accompanied by stunning visuals devised by Nick, the four were joined by Patsy Reid & 4tet, James Mackintosh, James Graham, Gregor Lowrey and Quee MacArthur for three very special gigs, culminating in the 'homecoming' of the music to Coigach Community Hall.
The Talamh Beò collective are Mary Ann Kennedy, Finlay Wells, Nick Turner and Donald MacLean, all from the West Highlands of Scotland. Friends and colleagues over many years and in many combinations, they have been constantly inspired by each other's drive, innovation and iconoclastic creativity. Talamh Beò is the first time however, that all four have collaborated on one commission.
Musician, composer, writer, broadcaster Mary Ann is one of Scotland's most respected Gaelic singers and co-directs the Watercolour Music studios in Ardgour, Lochaber with her husband producer and film-maker Nick Turner. They have collaborated on many projects including Mary Ann's two solo albums and several residencies and commissions, including a forthcoming documentary for BBC ALBA, following Mary Ann's cross-country 'pilgrimage' to her first live gig post-lockdown. Finlay is at the heart of Mary Ann's music as well, being her regular guitarist over more than a decade. Leading a double musical life in Scotland and Denmark, he is the lead guitarist in the rock band COAST as well as running his own studio in Oban. He has likewise worked with Donald MacLean for many years as part of geopoetic Familiar Wilderness project, inspired by the world immediately around them. When not writing poetry, Donald is Professorial Research Fellow at Glasgow University's Adam Smith Business School.
The Talamh Beò album will be released on Watercolour Music.
Why are you involved in Scottish music?
All four musicians have been surrounded by folk and traditional music throughout their lives although their own particular musical routes have taken other paths – pop, indie, classical, rock, jazz – as well as their individual involvement in trad music. They are all based in the West Highlands, where their surroundings constantly inform and inspire their music and creativity.
Any particular career highlights?
Talamh Beò was a particular challenge as this was the first collaboration for the quartet, although they were familiar with each others's work, and had collaborated individually on many occasions. So just being able to work together and realise a large-scale work together was a highlight in itself. The lockdow challenges in many ways made this project more special as each milestone achieved marked a huge amount of work and determination to make things happen. The greatest highlight so far for Talamh Beò though, has to be bringing the music 'home' to Achiltibuie during the Blas Festival, and celebrating with the communities themselves.
What are your plans for the future?
It's a big gig – 13 folk! – but we want to play it again live with a big screen for the beautiful videos that accompany every track! And the album release will let us share the music with new audiences – watch this space!
Talamh Beò – Mary Ann Kennedy, Finlay Wells, Nick Turner & Donald Maclean Social Media
Website: http://www.watercolourmusic.co.uk/Projects/CA/index.html
Facebook: @NicUalraig; @watercolourmusicuk; @finlaywells
Twitter: @NicUalraig; @Watercolour_UK; @FinlayWells
Instagram: @MaryAnnKennedy_NicUalraig
YouTube: @watercolourfilms
TikTok: @
The 2022 MG ALBA Scots Trad Music Awards are back to normal on the 4th December 2022! You will be able to watch it live in person (buy a ticket here),Watch it live in the UK at 9pm (GMT) on BBC ALBA and and around the world here. Bands performing on Sunday 4th December include Elephant Sessions, Fara, Trip, Eryn Rae Trio, The Auldeners, Gordon Shand Scottish Dance Band, Irish Minstrels, Tayside Young Fiddlers, and a James Alexander Tribute.
If you would like to support Hands Up for Trad in their work with Scottish trad music and musicians why not become a friend of Hands Up for Trad. In addition to our high profile events like the Scots Trad Music Awards, we also deliver a less well known, education programme for young people from 8yrs right through to young adults at the start of their careers. Read more here.