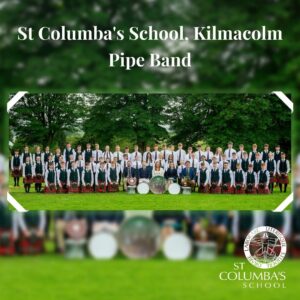 Congratulations to St Columba's School, Kilmacolm who has been nominated in Scottish Pipe Band of the Year sponsored by The National Piping Centre in the MG ALBA Scots Trad Music Awards 2022. Vote for St Columba's School, Kilmacolm now!. It's going to be another great night at the MG ALBA Scots Trad Music Awards on Sunday 4th December in Dundee's Caird Hall. Why not join us for a brilliant night of music and awards. Buy a ticket here.
We asked Gordon of St Columba's School, Kilmacolm the following questions.
Tell us about yourself
St Columba's is an independent, non-denominational day school for children aged 3 to 18. We are one of Scotland's highest achieving schools, nestled in the beautiful town of Kilmacolm, near Glasgow. Here, we prepare our young people for the world in a warm and welcoming atmosphere where each pupil is known and recognised as an individual.
Piping and Drumming plays a big part to school life here at St Columba's with over 120 pupils learning through our Piping and Drumming Programme. Each pupil receives a weekly 30min lesson from one of our world class team of instructors.
Programme Manager – Mr Gordon Bruce
Snare Drum – Mr Steven Nelson
Bass and Tenor Drum – Miss Louise Augaitis
Bagpipes/Chanter – Mr Chris Gray
The 2022 pipe band season saw our school band compete at the 5 RSPBA major championships for the very first time. It was an extremely successful campaign, with the band being crowned UK Champions, Scottish Champions and overall, Champions of Champions in the Novice Juvenile B grade.
Why are you involved in Scottish music?
To teach and promote the art of piping and drumming to our pupils, local community and to carry forward the tradition.
Any particular career highlights?
– RSPBA Novice Juvenile B Champion of Champions, August 2022
– Scottish Champions, July 2022
– UK Champions, June 2022
– Beating Retreat 2022 (when all 120 pipers and drummers performed together)
– COP 26 performance, 2021
– Scottish Schools Champions 2020, 2019, 2018
– Tour of Armagh, March 2019
– Tartan Day, New York City, April 2017
What are your plans for the future?
We are looking forward to performing at Tartan Day 2023 in New York City. We have 65 pipers and drummers from the school travelling to take part in the band for this event. Which is sure to create memories for a lifetime for all involved.
St Columba's School, Kilmacolm Social Media
Website: https://www.st-columbas.org/
Facebook: @StColPipeBand
Twitter: @StColPipeBand
Instagram: @StColPipeBand
YouTube: @
TikTok: @
The 2022 MG ALBA Scots Trad Music Awards are back to normal on the 4th December 2022! You will be able to watch it live in person (buy a ticket here),Watch it live in the UK at 9pm (GMT) on BBC ALBA and and around the world here. Bands performing on Sunday 4th December include Elephant Sessions, Fara, Trip, Eryn Rae Trio, The Auldeners, Gordon Shand Scottish Dance Band, Irish Minstrels, Tayside Young Fiddlers, and a James Alexander Tribute.
If you would like to support Hands Up for Trad in their work with Scottish trad music and musicians why not become a friend of Hands Up for Trad. In addition to our high profile events like the Scots Trad Music Awards, we also deliver a less well known, education programme for young people from 8yrs right through to young adults at the start of their careers. Read more here.