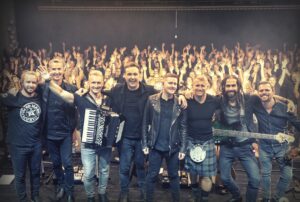 Congratulations to SKERRYVORE who has been nominated in Live Act of the Year sponsored by Greentrax Recordings in the MG ALBA Scots Trad Music Awards 2022. Vote for SKERRYVORE now!. It's going to be another great night at the MG ALBA Scots Trad Music Awards on Sunday 4th December in Dundee's Caird Hall. Why not join us for a brilliant night of music and awards. Buy a ticket here.
We asked Daniel of SKERRYVORE the following questions.
Tell us about yourself
Over the last 16 years, Skerryvore have brought their high energy performances to audiences across the globe, including to festival crowds in USA, Canada, Australia and throughout the UK and Europe. Picking up Scottish traditional music's 'Live Act of the Year' twice on the way, their 6 studio albums demonstrate the wide range of influences the individual musicians bring to the mix – a unique fusion of folk, trad, rock, Americana and pop.
Why are you involved in Scottish music?
All of the band have individually been raised with music a key part of their upbringing and daily lives. Scotland has such an eclectic range of genres and that is what makes it so exciting to be part of the current scene.
Any particular career highlights?
In 2021, despite the challenges of the global pandemic, Skerryvore not only secured their first No.1 track in the Official Charts but also twice achieved national radio play-listing on BBC Radio 2 with their songs Together Again and You & I, which hit the prestigious A List. It is extremely rare for a 'non-mainstream' independent artist to be placed on the list, but multiple daily plays, and great a response from the presenters, have seen Skerryvore reach a whole new fanbase worldwide.
What are your plans for the future?
We have very exciting news due to be released regarding new music and that will be showcased globally in 2023 with tours in the UK, Europe and North America
SKERRYVORE Social Media
Website: https://skerryvore.com
Facebook: @skerryvore
Twitter: @skerryvore
Instagram: @skerryvore
YouTube: @skerryvore
TikTok: @skerryvore
The 2022 MG ALBA Scots Trad Music Awards are back to normal on the 4th December 2022! You will be able to watch it live in person (buy a ticket here),Watch it live in the UK at 9pm (GMT) on BBC ALBA and and around the world here. Bands performing on Sunday 4th December include Elephant Sessions, Fara, Trip, Eryn Rae Trio, The Auldeners, Gordon Shand Scottish Dance Band, Irish Minstrels, Tayside Young Fiddlers, and a James Alexander Tribute.
If you would like to support Hands Up for Trad in their work with Scottish trad music and musicians why not become a friend of Hands Up for Trad. In addition to our high profile events like the Scots Trad Music Awards, we also deliver a less well known, education programme for young people from 8yrs right through to young adults at the start of their careers. Read more here.