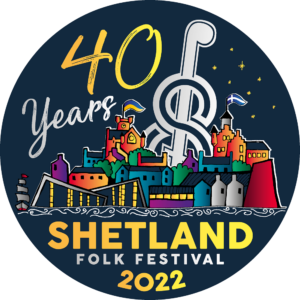 Congratulations to Shetland Folk Festival who has been nominated in Event of the Year sponsored by VisitScotland in the MG ALBA Scots Trad Music Awards 2022. Vote for Shetland Folk Festival now!. It's going to be another great night at the MG ALBA Scots Trad Music Awards on Sunday 4th December in Dundee's Caird Hall. Why not join us for a brilliant night of music and awards. Buy a ticket here.
We asked Mhari of Shetland Folk Festival the following questions.
Tell us about yourself
With now 40 years of experience behind us, the Shetland Folk Festival is internationally renowned and continues to be operated entirely by proud and passionate volunteers who give up an enormous amount of time year year to stage this prestigious event. Held in venues the length and breadth of Shetland, we are extremely proud of being able to showcase an incredible range of Shetland's own musical talent and heritage but also to invite bands from Scotland, Europe, North America (and sometimes further afield) to collaborate and share those all important concert platforms, Not only is this a real treat for Shetland music lovers and festival goers, but also the hundreds of visitors who flock to Shetland each year to attend.
Why are you involved in Scottish music?
We are involved in Scottish music mostly because of our pride in Shetland's own rich musical heritage and traditions and being determined to provide opportunities for Shetland's amazing talent to be showcased to audiences made up of locals and visitors from all over the world. Local bands sharing concert platforms with leading folk musicians and bands from Scotland, other parts of Europe and North America – and celebrating/collaborating together – has been part of the winning formula since our very first Festival back in 1981. Living in the most northerly and remote part of the country, it can be challenging for our own musical talent to have the same opportunities as are available elsewhere – so it's vitally important that we provide that platform, celebrate what we have and help open doors where we can. We love watching visiting musicians being totally bowled over at Shetland's own talent.
Any particular career highlights?
We were FINALLY able to celebrate our 40th Festival between 28th April and 1st May 2022 – and what an incredible milestone to reach. However, as it coincided with a time that society was easing out of Covid restrictions, it was no doubt the most stressful but also most rewarding event we have ever delivered. To do our bit for the recovery of the music and tourism sector was so important for us but we had to deliver our event in a way that was sensitive to our community and not financially wreck-less for our charity. It felt like a massive responsibility on our volunteer shoulders but having been the first major event to cancel back in March 2020, we were determined to not let another year slip by. Many of our local musicians and bands had hardly seen each year in 2 years and we knew that by committing to having the Festival, they would be motivated to get together and practise once more. We scaled back slightly but still had concerts the length and breadth of Shetland and an impressive international line-up to sit alongside Shetland's impressive musical offering – a line-up that included repeat acts from each decade of the Festival. We are extremely proud of the incredible social impact we delivered this year. It was a huge boost to the island – both economically and socially – and massively important in building community confidence and reminding everyone of the importance and power of live music for everyone's wellbeing. There were many tears of joy, SOOOOO many hugs and twartree smoorikins too!
What are your plans for the future?
We're going to keep on doing what we're doing! Our formula has worked for the past 40 years and we see no real need to change how we deliver. However, in 2023 in particular, we do want to have a focus on celebrating and showcasing some of Scotland's up and coming musical talent (alongside our own, of course!!). As well as arranging concerts each year, we constantly strive to deliver specific projects too and in particular ones that can nurture and encourage our young musicians to collaborate.
Shetland Folk Festival Social Media
Website: https://www.shetlandfolkfestival.com/
Facebook: @ShetlandFolkFestival
Twitter: @shetlandfolk
Instagram: @shetlandfolkfest
YouTube: @
TikTok: @
The 2022 MG ALBA Scots Trad Music Awards are back to normal on the 4th December 2022! You will be able to watch it live in person (buy a ticket here),Watch it live in the UK at 9pm (GMT) on BBC ALBA and and around the world here. Bands performing on Sunday 4th December include Elephant Sessions, Fara, Trip, Eryn Rae Trio, The Auldeners, Gordon Shand Scottish Dance Band, Irish Minstrels, Tayside Young Fiddlers, and a James Alexander Tribute.
If you would like to support Hands Up for Trad in their work with Scottish trad music and musicians why not become a friend of Hands Up for Trad. In addition to our high profile events like the Scots Trad Music Awards, we also deliver a less well known, education programme for young people from 8yrs right through to young adults at the start of their careers. Read more here.