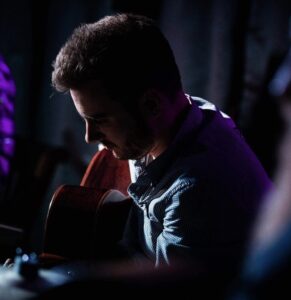 Congratulations to Scott Turnbull who has been nominated in Live Sound Engineer of the Year in the MG ALBA Scots Trad Music Awards 2022. Vote for Scott Turnbull now!. It's going to be another great night at the MG ALBA Scots Trad Music Awards on Sunday 4th December in Dundee's Caird Hall. Why not join us for a brilliant night of music and awards. Buy a ticket here.
We asked Scott of Scott Turnbull the following questions.
Tell us about yourself
I'm a live sound engineer, currently working as house engineer at The Fruitmarket & City Halls, alongside freelance touring with a number of bands on the Scottish Trad scene.
Why are you involved in Scottish music?
I've been a trad guitarist since a very young age, and until about 3 years ago, I was more or less working full time as a freelance musician. Making the move to being a full time sound engineer was more of a happy accident than anything else.
Any particular career highlights?
Post covid, it's been a pleasure to work on any event really. I've been very lucky this year to work on some great events, with great teams, such as Tiree Music Festival and with incredible bands such as FARA, Breabach and Dallahan.
What are your plans for the future?
I think in the future, I'd like to get out and do more touring with bands. I enjoy travelling and the challenges posed with being in a new venue every day. There's a couple of exciting things in the diary already for next year, so I'm looking forward to that!
Scott Turnbull Social Media
Website: http://www.smtmusic.co.uk
Facebook: @
Twitter: @
Instagram: @scott___turnbull
YouTube: @
TikTok: @
The 2022 MG ALBA Scots Trad Music Awards are back to normal on the 4th December 2022! You will be able to watch it live in person (buy a ticket here),Watch it live in the UK at 9pm (GMT) on BBC ALBA and and around the world here. Bands performing on Sunday 4th December include Elephant Sessions, Fara, Trip, Eryn Rae Trio, The Auldeners, Gordon Shand Scottish Dance Band, Irish Minstrels, Tayside Young Fiddlers, and a James Alexander Tribute.
If you would like to support Hands Up for Trad in their work with Scottish trad music and musicians why not become a friend of Hands Up for Trad. In addition to our high profile events like the Scots Trad Music Awards, we also deliver a less well known, education programme for young people from 8yrs right through to young adults at the start of their careers. Read more here.