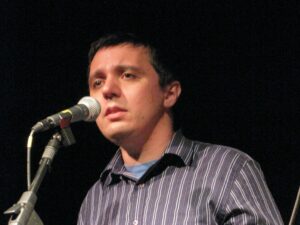 Congratulations to Scott Gardiner who has been nominated in Citty Finlayson Scots Singer of the Year sponsored by Traditional Music and Song Association in the MG ALBA Scots Trad Music Awards 2022. Vote for Scott Gardiner now!. It's going to be another great night at the MG ALBA Scots Trad Music Awards on Sunday 4th December in Dundee's Caird Hall. Why not join us for a brilliant night of music and awards. Buy a ticket here.
We asked Scott of Scott Gardiner the following questions.
Tell us about yourself
Singer from Forfar in the bothy heartland of Angus, best known for singing the traditional Scottish songs and bothy ballads of the area.
Why are you involved in Scottish music?
Have been going out and about with the singing since primary school and now, as then, it's always been about having a liking and enthusiasm for the songs, and the other folk who sing and listen to them.
I'm quite involved in the organising of Kirriemuir Festival and Cullerlie Traditional Singing Weekend, and help out with The World's Room in Edinburgh and Edinburgh Uni Folk Society. It's good to be part of real community-led events, and to feel you're doing your bit to help things along.
Any particular career highlights?
Memorable trips abroad like the Smithsonian Folklife Festival in Washington and a week "working" in Tuscany teaching Scots Song, but the real highlights are more domestic. These include a 20 year run of performances at the Kirrie Pensioners' Christmas Party, winning the World Bothy Ballad Championship in Elgin, and (along wi guitarist Jonny Kemp) getting the first ever Mexican Wave going at Dunfermline Folk Club.
2022 has been one big highlight, as everyone started getting on the road again. Singing trips to SW England and Germany, with additional MC-ing, judging and chair shifting at the summer festivals of Scotland and Orkney. Helping sort out and perform the music for "I Ken Whaur I'm Gaun" – a new film using old footage and songs from Scotland's archives. And taking "Jock's Jocks" (a play by Gary West. Based on the oral histories of the north-east, WW1 soldiers who were interviewed by the great Jock Duncan) on a wee tour of Aberdeenshire and Perthshire. Acting's a bit strong a word for it – I play a character sitting at a kitchen table drinking whisky, singing songs and talking about Clydesdale horses. Good casting
What are your plans for the future?
Nae great master plan I'm afraid. Just hope to keep on the right side of the grass for a whiley yet, and to keep enjoying the songs and the company.
Scott Gardiner Social Media
Website:
Facebook: @ScottGardinerSingsSongs
Twitter: @
Instagram: @
YouTube: @
TikTok: @
The 2022 MG ALBA Scots Trad Music Awards are back to normal on the 4th December 2022! You will be able to watch it live in person (buy a ticket here),Watch it live in the UK at 9pm (GMT) on BBC ALBA and and around the world here. Bands performing on Sunday 4th December include Elephant Sessions, Fara, Trip, Eryn Rae Trio, The Auldeners, Gordon Shand Scottish Dance Band, Irish Minstrels, Tayside Young Fiddlers, and a James Alexander Tribute.
If you would like to support Hands Up for Trad in their work with Scottish trad music and musicians why not become a friend of Hands Up for Trad. In addition to our high profile events like the Scots Trad Music Awards, we also deliver a less well known, education programme for young people from 8yrs right through to young adults at the start of their careers. Read more here.