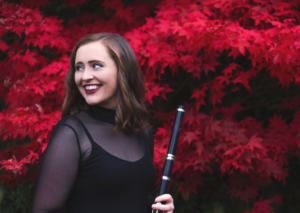 Congratulations to Sarah Markey who has been nominated in Up and Coming Artist of the Year sponsored by Royal Conservatoire of Scotland in the MG ALBA Scots Trad Music Awards 2022. Vote for Sarah Markey now!. It's going to be another great night at the MG ALBA Scots Trad Music Awards on Sunday 4th December in Dundee's Caird Hall. Why not join us for a brilliant night of music and awards. Buy a ticket here.
We asked Sarah of Sarah Markey the following questions.
Tell us about yourself
Hello! I'm Sarah Markey and I'm a flute player, singer and harpist. I'm originally from Coatbridge but have been based in Glasgow for the last four years. My first introduction to traditional music was through my grandparents John and Sarah Grant. My musical upbringing was steeped in traditional Irish music and I learned through my local Comhaltas branch in Coatbridge, St Patrick's CCE.
I studied Spanish and Italian at Glasgow University which took me on a different path from the music career I'd originally wanted. However I was fortunate enough to meet many different musicians in sessions while living abroad and this itself lead me back to a full-time career in music.
May 2022 saw the release of my long-awaited debut solo album Leaving Lurgangreen. The album is dedicated in memory of my grandmother, Sarah Grant, who was from Lurgangreen, co. Louth Ireland. It's a reflection on my musical journey so far, featuring a mixture of self-penned tunes and traditional repertoire from Scotland, Ireland and Spain.
Since permanently moving back to Scotland, I became more involved in Scottish traditional music through the multifaceted Glasgow session scene. As a result now my music tends to show a blend both Irish and Scottish traditional styles.
The music on my debut album also draws on my experiences of living abroad in Cáceres, Spain and my interest in Asturian traditional music. The album charts a story of immigration which is far from uncommon, but it's one that's yet to be fully explored musically for me.
Why are you involved in Scottish music?
I became involved in Scottish music thanks to the Glasgow session scene. Over the years I've been fortunate to meet many musicians from different backgrounds and cultures. The Glasgow session scene gives a platform for people to meet and share different traditional repertoire from all over the world.
Any particular career highlights?
My top three career highlights so far would include being a finalist in the 2019 BBC Radio Scotland Young Traditional Musician of the Year competition. I feel this was an important platform for me which helped me to pursue a full-time career in music.
My other two career highlights would be recording/self-releasing my debut solo album and launching this in Cottiers in Glasgow at the end of October 2022. Like many others I was meant to release my album in 2020 but it was postponed for two years due to Covid.
People say self-releasing your first album is a massive learning curve and it's always going to be stressful. The last two years certainly made this so much more difficult and it felt at times I was never going to get there. I'll never forget the relief I felt when I finally got to play back the physical CD and when I played the music live with my band for the first time this year.
What are your plans for the future?
I'm planning to tour my debut solo album with my band at different festivals/venues around Scotland, Ireland and further afield in the next few years. I also plan to continue creating music and hopefully aiming to release more music in the near future.
Sarah Markey Social Media
Website: https://www.sarahmarkey.com/
Facebook: https://www.facebook.com/sarahmarkeymusic/
Twitter: @
Instagram: @sarahmarkeymusic
YouTube: https://www.youtube.com/channel/UCgHUo7BMy3iCCykprs2ht2w
TikTok: @
The 2022 MG ALBA Scots Trad Music Awards are back to normal on the 4th December 2022! You will be able to watch it live in person (buy a ticket here),Watch it live in the UK at 9pm (GMT) on BBC ALBA and and around the world here. Bands performing on Sunday 4th December include Elephant Sessions, Fara, Trip, Eryn Rae Trio, The Auldeners, Gordon Shand Scottish Dance Band, Irish Minstrels, Tayside Young Fiddlers, and a James Alexander Tribute.
If you would like to support Hands Up for Trad in their work with Scottish trad music and musicians why not become a friend of Hands Up for Trad. In addition to our high profile events like the Scots Trad Music Awards, we also deliver a less well known, education programme for young people from 8yrs right through to young adults at the start of their careers. Read more here.