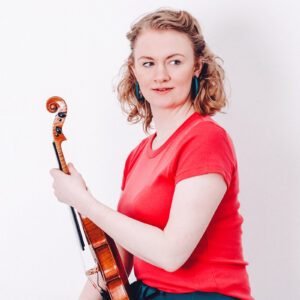 Congratulations to Sally Simpson who has been nominated in Music Tutor of the Year Award sponsored by Creative Scotland's Youth Music Initiative in the MG ALBA Scots Trad Music Awards 2022. Vote for Sally Simpson now!. It's going to be another great night at the MG ALBA Scots Trad Music Awards on Sunday 4th December in Dundee's Caird Hall. Why not join us for a brilliant night of music and awards. Buy a ticket here.
We asked Sally of Sally Simpson the following questions.
Tell us about yourself
I'm a fiddle player and teacher from Edinburgh, now based in Glasgow. I'm lucky to play with several fantastic bands – Westward the Light, Heisk, Malin Makes Music – and have been privileged to work with many others over the years. I teach privately and for various outreach and community groups, such as Scots Music Group, various Fèisean and Live Music Now Scotland. I spent a year studying Swedish Folk Music in Stockholm, and am a graduate of RCS' Scottish Music degree.
Why are you involved in Scottish music?
I became interested in Scottish music when I heard my aunt (Sheila, who runs Riddell Fiddles) playing at family gatherings as a child, along with my Dad who was a music teacher. I've stayed involved in it because I love the feeling of connection that playing music brings to your life – connection with the music, with pupils, audiences, bandmates – and myself!
Any particular career highlights?
I had a fantastic time touring with Sting's musical The Last Ship back in 2018, which was a total change of scene and a lot of fun, but for me, you can't beat an intimate village hall concert with Westward, or a jumping festival show with Heisk! I studied in Sweden, and at the end of my time there did a farewell concert with friends, playing a mixture of Scottish, Swedish and old-time tunes in different combos, which was possibly the most enjoyable gig I've ever done. Working with Live Music Now Scotland (with Catriona Hawksworth), Scots Music Group and teaching privately, it's always a joy when you see someone overcome a hurdle they didn't think they could, or step out of their comfort zone to connect with the music.
What are your plans for the future?
Westward the Light have a second album ready to launch in 2023, which I'm very proud of and can't wait to share. Heisk are writing away, prepping for album 2, and 2023 is already looking quite busy with live work in other guises too. I've a couple of exciting teaching and outreach projects on the go with Live Music Now Scotland, and I'm making more time to push myself to do solo gigs as well, to really terrify myself into playing for my own benefit too. As much as it can be a stressful juggling act at times, I find that my performing and teaching work feed into each other well, and I want to keep striving to do justice to both areas of my work.
Sally Simpson Social Media
Website: https://www.sallyfiddle.com
Facebook: @sallysimpsonmusic
Twitter: @
Instagram: @sally.fiddle
YouTube: @sallyfiddle
TikTok: @
The 2022 MG ALBA Scots Trad Music Awards are back to normal on the 4th December 2022! You will be able to watch it live in person (buy a ticket here),Watch it live in the UK at 9pm (GMT) on BBC ALBA and and around the world here. Bands performing on Sunday 4th December include Elephant Sessions, Fara, Trip, Eryn Rae Trio, The Auldeners, Gordon Shand Scottish Dance Band, Irish Minstrels, Tayside Young Fiddlers, and a James Alexander Tribute.
If you would like to support Hands Up for Trad in their work with Scottish trad music and musicians why not become a friend of Hands Up for Trad. In addition to our high profile events like the Scots Trad Music Awards, we also deliver a less well known, education programme for young people from 8yrs right through to young adults at the start of their careers. Read more here.