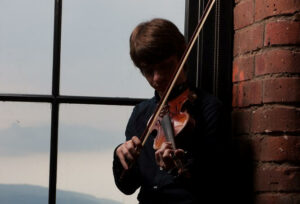 Congratulations to Ryan Young who has been nominated in Musician of the Year sponsored by The University of the Highlands and Islands in the MG ALBA Scots Trad Music Awards 2022. Vote for Ryan Young now!. It's going to be another great night at the MG ALBA Scots Trad Music Awards on Sunday 4th December in Dundee's Caird Hall. Why not join us for a brilliant night of music and awards. Buy a ticket here.
We asked Ryan of Ryan Young the following questions.
Tell us about yourself
Ryan Young brings new and exciting ideas to traditional Scottish music, receiving international praise for his spell-binding interpretations on the fiddle. His debut album was recorded with four time GRAMMY winner Jesse Lewis (who has worked with the likes of Bela Fleck and Yo Yo Ma) and launched at Feakle Traditional Music Festival in County Clare, accompanied by renowned guitarist, Dennis Cahill (Martin Hayes; The Gloaming).
Focussing on traditional Scottish music, Ryan brings new life to very old, often forgotten tunes by playing them in his own unique way. His fiddle playing is brimming with fresh melodic ideas, an uplifting rhythmic drive and a great depth of dynamics and precision. His sound is very distinctive and takes the listener on an emotional and adventurous journey in any performance.
Ryan holds both a first class honours and a Masters degree from the Royal Conservatoire of Scotland, was twice a finalist in the BBC Radio 2 Young Folk Awards, and twice a finalist in the prestigious BBC Radio Scotland Young Traditional Musician of The Year. He was awarded 'Up And Coming Artist Of The Year' at the Scots Trad Awards in 2017, nominated for the Horizon Award at the BBC Radio 2 Folk Awards 2018 and awarded Folking.com's Musician Of The Year title, also in 2018.
Further MG Alba Scots Trad Music Awards nominations include Album Of the Year, and Folk Band Of The Year. Ryan Young was also the only UK artist selected to perform at the prestigious World Music conference, WOMEX, in 2019.
"…a force of nature" ***** (5 STARS) The Scotsman
"I have known Ryan for many years and have watched his steady progress from student to accomplished fiddle player. He has created his own unique way of playing and is finding great emotional depth in his native Scottish Music. Ryan Young is an up and coming musician who is gaining more and more well deserved recognition. I feel that he has the potential to make a very significant contribution to the Scottish tradition." – Martin Hayes
Why are you involved in Scottish music?
I first started playing after hearing brilliant local fiddler Eilidh Steel and seeing the great Aly Bain on the BBC Hogmanay show. It was something about the music they played which just spoke to me. I love that many of the tunes are so old that their origins aren't really known, yet musicians feel so attached to certain tunes that they almost become part of them. For me, the sign of a great tune is one that is constantly evolving. Traditional tunes are so malleable that they become very personal and individual in each player's hands. They allow people to speak without words. This is what I love the most about Scottish music.
Any particular career highlights?
I genuinely love every time I get to play, whether on a big stage at a festival or in an intimate venue. There's nothing like playing to a live audience ! And audience of good listeners draw things from you that you didn't know were there. I love the unknown, that feeling of not knowing exactly what you'll do with a certain tune and playing in the moment. A true highlight was playing with one of my life long-heroes, the late Dennis Cahill in Ireland. I'm forever talking about Martin Hayes and Dennis Cahill with people and often ask guitarists to do something like what Dennis might do when they ask me if there's something I would like. When I played with Dennis and he asked, I think I just smiled… a lot.
What are your plans for the future?
I've been navigating an injury to my left hand which delayed the release of my second album for far longer than I hoped. Next year will finally see it released. It's been a huge ambition of mine to play in the U.S.A., Canada and Australia and I'm thrilled that plans are gradually taking shape. I also have plans to work on some music centred around a very special fiddle as well as experimenting playing with a larger ensemble which I've been getting a few requests for.
Ryan Young Social Media
Website: https://ryanyoung.scot
Facebook: @ https://www.facebook.com/RyanYoungFiddle
Twitter: @RyanYoungFiddle
Instagram: @ https://www.instagram.com/ryanyoungfiddle/
YouTube: @ https://www.youtube.com/user/RyanYoungfiddle
TikTok: @
The 2022 MG ALBA Scots Trad Music Awards are back to normal on the 4th December 2022! You will be able to watch it live in person (buy a ticket here),Watch it live in the UK at 9pm (GMT) on BBC ALBA and and around the world here. Bands performing on Sunday 4th December include Elephant Sessions, Fara, Trip, Eryn Rae Trio, The Auldeners, Gordon Shand Scottish Dance Band, Irish Minstrels, Tayside Young Fiddlers, and a James Alexander Tribute.
If you would like to support Hands Up for Trad in their work with Scottish trad music and musicians why not become a friend of Hands Up for Trad. In addition to our high profile events like the Scots Trad Music Awards, we also deliver a less well known, education programme for young people from 8yrs right through to young adults at the start of their careers. Read more here.