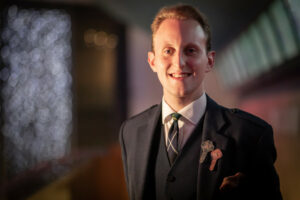 Congratulations to Ruairidh Gray who has been nominated in Gaelic Singer of the Year sponsored by The Highland Society of London in the MG ALBA Scots Trad Music Awards 2022. Vote for Ruairidh Gray now!. It's going to be another great night at the MG ALBA Scots Trad Music Awards on Sunday 4th December in Dundee's Caird Hall. Why not join us for a brilliant night of music and awards. Buy a ticket here.
We asked Ruairidh of Ruairidh Gray the following questions.
Tell us about yourself
I grew up in the village of Daliburgh on the island of South Uist. I am currently studying in my third year at the Royal Conservatoire of Scotland. For as long as I can remember I have been singing in Gàidhlig and love it very much.
Why are you involved in Scottish music?
I have always been involved in Scottish Music. One of my earliest memories is sitting with my mother in the living room in front of the fire whilst she teaches me the words to a Gàidhlig song. I love music, especially Gàidhlig music very deeply. I find the fact that I will sing the songs, composed by the great bards of 2,3,4,5 hundred years ago, and more, highly emotional as to me, that is carrying on the legacy of these magnificent people, which is an honour. It is also a responsibility to ensure that whatever I sing, is done in the way in which the bard intended. I simply cannot imagine my life without music.
Any particular career highlights?
There are a few. One highlight certainly would be performing in the Bolshoi Theatre in Moscow, Russia in 2017. The first Gàidhlig singer to do so since Calum Kennedy won the World Ballad Competition there in 1958. In more recent times, I won both the Bònn Òr a Chomunn and the Bònn Òir an t-Seann Nòis at the Royal National Mòd in Perth that was held this year. I am only the second person ever to have done this in the Mòds 130 year history. I have also performed in other marvellous venues such as the Eden Court, Glasgow Royal Concert Hall, Perth Concert Hall and the Gloir Theatre in Ennis, County Clare, Ireland, celebrating 25 Years of "Struth na Maoile", a celebration of both the Gàidhlig and Irish language. However, as good as all that may be, highest highlight, would be performing in St. Peter's Church Hall in Daliburgh on the Island of South Uist!
What are your plans for the future?
My plans are to finish my studies at the Royal Conservatoire of Scotland, Glasgow. I have a wonderful mentor, Ms. Iseabail T. MacDonald, without whom I simply would not be where I am today. I hope to continue with my music for a very long time, and so anything that enables me to do so, will naturally be where I slot in my career.
Ruairidh Gray Social Media
Website:
Facebook: @Ruairidh Gray
Twitter: @
Instagram: @ruairidh_macilleghlais
YouTube: @
TikTok: @
The 2022 MG ALBA Scots Trad Music Awards are back to normal on the 4th December 2022! You will be able to watch it live in person (buy a ticket here),Watch it live in the UK at 9pm (GMT) on BBC ALBA and and around the world here. Bands performing on Sunday 4th December include Elephant Sessions, Fara, Trip, Eryn Rae Trio, The Auldeners, Gordon Shand Scottish Dance Band, Irish Minstrels, Tayside Young Fiddlers, and a James Alexander Tribute.
If you would like to support Hands Up for Trad in their work with Scottish trad music and musicians why not become a friend of Hands Up for Trad. In addition to our high profile events like the Scots Trad Music Awards, we also deliver a less well known, education programme for young people from 8yrs right through to young adults at the start of their careers. Read more here.