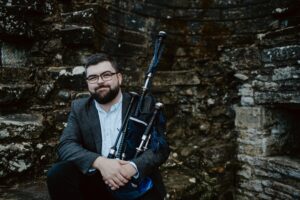 Congratulations to Ross Miller who has been nominated in Music Tutor of the Year Award sponsored by Creative Scotland's Youth Music Initiative in the MG ALBA Scots Trad Music Awards 2022. Vote for Ross Miller now!. It's going to be another great night at the MG ALBA Scots Trad Music Awards on Sunday 4th December in Dundee's Caird Hall. Why not join us for a brilliant night of music and awards. Buy a ticket here.
We asked Ross of Ross Miller the following questions.
Tell us about yourself
Ross hails from Linlithgow, West Lothian where he is the official Town Piper. He studied Bagpipes, Scots Song and Whistles at the Royal Conservatoire of Scotland, where he graduated with a First Class Honours Degree in Traditional Music – Piping. Ross was a finalist in the 2019 BBC Radio Scotland Young Traditional Musician of the Year competition.
 
A World Champion piper, Ross began piping aged 7 and was the Pipe Major of the National Youth Pipe Band of Scotland. He competed with the world famous Boghall and Bathgate Caledonia Pipe Band for many years. He is currently a member the Grade 1 Inveraray and District Pipe Band. Also a successful solo piper, he competes regularly around the Highland Games in Scotland and further afield.
 
Ross has performed in many countries such as: New Zealand, Australia, USA, Ghana, Russia and all over central Europe as well as appearing on BBC Hogmanay Live and performing solo on the roof of Murrayfield Stadium. In 2022, he began to perform with The Red Hot Chilli Pipers. He is also a founding member of one of Scotland's busiest ceilidh bands, Foot Stompin'.
 
A sought after teacher, his roster of students covers Switzerland, USA, France, Germany and the UK. Ross was most recently the Bagpipe instructor for the Isle of Arran Music School and has previously taught at Wellington School in Ayr and for South Ayrshire Council. Over the years Ross has regularly travelled to teach at the Dudelsack Akademie in Frankfurt, Germany and has taught as part of the RCS Musicworks scheme, Fèisan Nan Gaidheal and for the National Piping Centre. As well as delivering workshops and masterclasses in Germany and France.
Why are you involved in Scottish music?
From an extremely young age Ross expressed an interest in playing the bagpipes, he would even make them out of bottles and kitchen roll tubes! He learned to play as soon as he was able and joined a pipe band band aged 10 and has forged an extremely successful career in that area of the traditional music scene.
Ross was first introduced to piping in a folk context by Sharon Hassan as part of West Lothian Schools Folk ensemble when he was 14. He played Border pipes, began to start playing Whistles and gained experience in arrangement and performance alongside other instruments. The band played at many local concerts and events and each year were given the opportunity to go to a Celtic Connections concert to give us insight into the broader Folk Music experience.
Building on these early experiences and the discipline required in the pipe band proved to be a great recipe for allowing him to forge a career in Scottish music spanning, teaching and performing and everything in between.
Any particular career highlights?
Ross has been fortunate to have many exciting opportunities and awards in his career so far. Some highlights include:
Ross' debut album 'The Roke' was released in 2020 to critical acclaim and was shortlisted for 'Trad Album of the Year' at the MG Alba Scots Trad Music Awards.
In 2021, Ross performed along with a group of pipers on the soundtrack of the OSCAR & BAFTA award winning film 'Dune'.
Ross won a Young Scot of the Year award for heritage aged only 12.
His proudest teacher moment has been leading the Isle of Arran Music School Pipe Band at the World Championships for the first time in 2022. He had taught all of the members from the beginning with no piping culture in the school or on the island and they overcame many challenges including a global pandemic and reduced access due to a patchy at best ferry service!
What are your plans for the future?
Ross looks forward to continuing with his diverse career with a renewed emphasis on performing. There are some new singles planned for release in 2023 alongside performances with the Ross Miller Band and others.
Ross Miller Social Media
Website: https://www.rossmillermusic.com
Facebook: @RossMillerMusic
Twitter: @RossMillerMusic
Instagram: @RossMillerMusic
YouTube: @RossMillerMusic
TikTok: @RossMillerMusic
The 2022 MG ALBA Scots Trad Music Awards are back to normal on the 4th December 2022! You will be able to watch it live in person (buy a ticket here),Watch it live in the UK at 9pm (GMT) on BBC ALBA and and around the world here. Bands performing on Sunday 4th December include Elephant Sessions, Fara, Trip, Eryn Rae Trio, The Auldeners, Gordon Shand Scottish Dance Band, Irish Minstrels, Tayside Young Fiddlers, and a James Alexander Tribute.
If you would like to support Hands Up for Trad in their work with Scottish trad music and musicians why not become a friend of Hands Up for Trad. In addition to our high profile events like the Scots Trad Music Awards, we also deliver a less well known, education programme for young people from 8yrs right through to young adults at the start of their careers. Read more here.