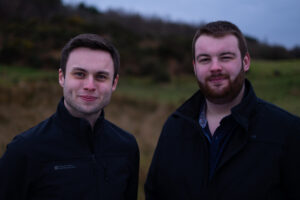 Congratulations to Rory Matheson & Graham Rorie who has been nominated in Album of the Year sponsored by Birnam CD in the MG ALBA Scots Trad Music Awards 2022. Vote for Rory Matheson & Graham Rorie now!. It's going to be another great night at the MG ALBA Scots Trad Music Awards on Sunday 4th December in Dundee's Caird Hall. Why not join us for a brilliant night of music and awards. Buy a ticket here.
We asked Graham of Rory Matheson & Graham Rorie the following questions.
Tell us about yourself
'We Have Won The Land' is the new collaborative project between Glasgow based folk musicians Rory Matheson and Graham Rorie. This suite of new music has been inspired by Rory's local area of Assynt in the North-West Highlands of Scotland and the community buy-out of the North Lochinver Estate by the Assynt Crofter's Trust in 1993.
Both former finalists in the BBC Radio Scotland Young Musician of The Year, Rory and Graham have worked together on a number of albums as session musicians but came together in 2022 to combine their musical influences on this new album for their first collaborative effort. They are joined by an impressive team of musicians including Anna Massie, Charlie Stewart, Craig Baxter, Fraser Stone, James Graham, Kristan Harvey and Tiernan Courell.
Why are you involved in Scottish music?
Rory Matheson began his musical journey on the accordion before moving to the piano as a teenager. His style is heavily influenced by the music of the Highlands and islands, with elements of jazz and blues also influencing his approach to traditional music, creating a powerful and sympathetic rhythm player.
Orcadian fiddle and mandolin player Graham Rorie grew up surrounded by traditional music in Orkney before also moving to Glasgow to study at the Royal Conservatoire of Scotland.
Any particular career highlights?
Having only recently graduated from the Royal Conservatoire of Scotland, Rory has already toured throughout Europe, U.S.A and Australia. He is a founding member of Glasgow band 'TRIP' and can also be seen touring with fiddle-led quartet Fara.
As a founding member folk-quartet Gnoss, Graham has gained extensive touring and recording experience. In his latest project, Graham brought together a selection of musicians to present a suite of newly-composed music inspired by his fellow Orcadians who travelled to northern Canada to work for the Hudson's Bay Company during the 18th and 19th centuries. 'The Orcadians of Hudson Bay' was nominated for 'Original Work of the Year' at the Scots Trad Music Awards and was released in album format in May 2021.
What are your plans for the future?
Having really enjoyed the collaborative process of this album we are looking forward to touring it in 2023. This could be followed by more albums and projects inspired by our local areas!
Rory Matheson & Graham Rorie Social Media
Website: https://www.grahamrorie.com/we-have-won-the-land
Facebook: @grahamroriemusic / @rorymathesonmusic
Twitter: @graham_rorie / @RoryMatheson88
Instagram: @graham_rorie / @rory_matheson
YouTube: https://www.youtube.com/channel/UCOUbXROublAy0aTmUR0byPQ
TikTok: @
The 2022 MG ALBA Scots Trad Music Awards are back to normal on the 4th December 2022! You will be able to watch it live in person (buy a ticket here),Watch it live in the UK at 9pm (GMT) on BBC ALBA and and around the world here. Bands performing on Sunday 4th December include Elephant Sessions, Fara, Trip, Eryn Rae Trio, The Auldeners, Gordon Shand Scottish Dance Band, Irish Minstrels, Tayside Young Fiddlers, and a James Alexander Tribute.
If you would like to support Hands Up for Trad in their work with Scottish trad music and musicians why not become a friend of Hands Up for Trad. In addition to our high profile events like the Scots Trad Music Awards, we also deliver a less well known, education programme for young people from 8yrs right through to young adults at the start of their careers. Read more here.