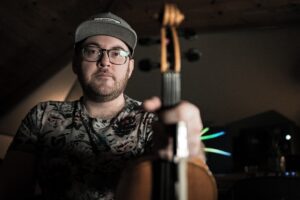 Congratulations to Ron Jappy who has been nominated in Music Tutor of the Year Award sponsored by Creative Scotland's Youth Music Initiative in the MG ALBA Scots Trad Music Awards 2022. Vote for Ron Jappy now!. It's going to be another great night at the MG ALBA Scots Trad Music Awards on Sunday 4th December in Dundee's Caird Hall. Why not join us for a brilliant night of music and awards. Buy a ticket here.
We asked Ron of Ron Jappy the following questions.
Tell us about yourself
Born and brought up in the North East village of Findochty, I have been a self employed musician and tutor for 12 years. A fiddle, guitar and piano player I am passionate about all aspects of traditional music, particularly moving the tradition forward by inspiring future generations.
Why are you involved in Scottish music?
I was very fortunate to have some incredibly inspirational tutors and mentors whilst growing up namely Donald Barr and James Alexander. Both were extremely passionate about passing on the tradition to younger generations and allowed myself as well as many others to grow and develop our musical styles as they guided us down our chosen path.
Any particular career highlights?
In December 2022 I released by debut album Vincular which celebrates the roll that accompaniment has in traditional music.
In 2017, myself and other tutors from Fèis Phàislig performed at the Scots Trad Music Awards with a group of youngsters who attended our Weekly Lessons programme.
What are your plans for the future?
I have some performances at Celtic Connections in January as well as some more work with Fèis Phàislig which I am looking forward to.
Ron Jappy Social Media
Website: http://ronjappy.com
Facebook: @https://www.facebook.com/RonJappyMusic
Twitter: @https://twitter.com/RonJappyMusic
Instagram: @https://www.instagram.com/rjappy89
YouTube: @https://www.youtube.com/c/RonJappy
TikTok: @
The 2022 MG ALBA Scots Trad Music Awards are back to normal on the 4th December 2022! You will be able to watch it live in person (buy a ticket here),Watch it live in the UK at 9pm (GMT) on BBC ALBA and and around the world here. Bands performing on Sunday 4th December include Elephant Sessions, Fara, Trip, Eryn Rae Trio, The Auldeners, Gordon Shand Scottish Dance Band, Irish Minstrels, Tayside Young Fiddlers, and a James Alexander Tribute.
If you would like to support Hands Up for Trad in their work with Scottish trad music and musicians why not become a friend of Hands Up for Trad. In addition to our high profile events like the Scots Trad Music Awards, we also deliver a less well known, education programme for young people from 8yrs right through to young adults at the start of their careers. Read more here.