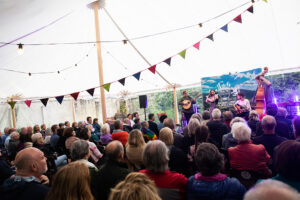 Congratulations to Newton Stewart & Minnigaff Traditional Music & Dance Festival who has been nominated in Event of the Year sponsored by VisitScotland in the MG ALBA Scots Trad Music Awards 2022. Vote for Newton Stewart & Minnigaff Traditional Music & Dance Festival now!. It's going to be another great night at the MG ALBA Scots Trad Music Awards on Sunday 4th December in Dundee's Caird Hall. Why not join us for a brilliant night of music and awards. Buy a ticket here.
We asked Nathon of Newton Stewart & Minnigaff Traditional Music & Dance Festival the following questions.
Tell us about yourself
Trad Music Trust is a Scottish registered charity (SC048610) that encourages, supports, develops and promotes traditional music & dance learning, composition and performance in the Dumfries & Galloway region of Southwest Scotland.
The charity's flagship annual event is Newton Stewart & Minnigaff Traditional Music & Dance Festival which takes place over the second weekend in July, welcoming visitors and performing artists from all over the world for concerts, workshops, solo piping competition, Highland dancing competition and unforgettable tune and song sessions.
Founded by Nathon Jones with support from his family, friends and the local communities of Newton Stewart & Minnigaff, the festival began in 2014 and has featured some of the biggest and best known names in traditional music.
Why are you involved in Scottish music?
The charity is run by a Board of Trustees who are all members of the local community and who are passionate about traditional music and their Scottish heritage. The festival was formed to bring world class traditional music to an often overlooked rural, and remote, part of Scotland; to inspire, educate and entertain new audiences who would, otherwise, have to travel significant distances to experience.
Since 2014, the charity has provided free tuition for under 25s and continues to offer those opportunities to ensure there are no barriers to tuition for those wishing to learn. Often delivered by those performing at the festival, the workshops and tuition has been of an incredibly high standard, and has inspired some attendees to go on to attend Plockton Music School and progress their own careers in traditional music.
Any particular career highlights?
In 2019 the event was shortlised as a finalist in the Best Festival category at the National E-Awards in Edinburgh, having also been shortlisted as a finalist in the Tourism Champion cateogry at the local DG Life Awards, which recognises excellence in Dumfries & Galloway, that same year.
In 2020, Festival Director Nathon Jones won the Culture Champion award at the DG Life Awards acknowledging his efforts, through his work with the charity and the festival, in developing traditional music in Dumfries & Galloway.
Being nominated for Event of the Year at this year's MG ALBA Trad Music Awards is most certainly a career highlight for the organisation though, and we are truly humbled by our nomination.
What are your plans for the future?
In 2019, the charity created its own social enterprise project, The Vault Arts Centre, which generates income for the organisation. In the future, it is hoped that The Vault Arts Centre will not only financially support the charity's festival events, but will also become a centre of excellence for traditional music learning.
The festival itself aims to expand to include afternoon concert events, residential workshop/masterclass weekends, a Lowland Games experience to compliment the Highland dancing competition and further improvements to the overall programme. It also aims to further develop its sister event, Autumn Trad, which is another annual traditional music festival run by the charity, held in late October.
Newton Stewart & Minnigaff Traditional Music & Dance Festival Social Media
Website: https://www.tradmusic.com
Facebook: @TradMusicFestival
Twitter: @TradFestival
Instagram: @tradmusicstrust
YouTube: @TradMusicTrust
TikTok: @
The 2022 MG ALBA Scots Trad Music Awards are back to normal on the 4th December 2022! You will be able to watch it live in person (buy a ticket here),Watch it live in the UK at 9pm (GMT) on BBC ALBA and and around the world here. Bands performing on Sunday 4th December include Elephant Sessions, Fara, Trip, Eryn Rae Trio, The Auldeners, Gordon Shand Scottish Dance Band, Irish Minstrels, Tayside Young Fiddlers, and a James Alexander Tribute.
If you would like to support Hands Up for Trad in their work with Scottish trad music and musicians why not become a friend of Hands Up for Trad. In addition to our high profile events like the Scots Trad Music Awards, we also deliver a less well known, education programme for young people from 8yrs right through to young adults at the start of their careers. Read more here.