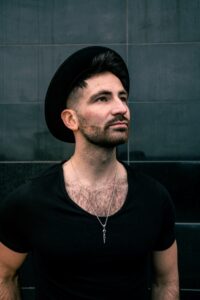 Congratulations to Mohsen Amini who has been nominated in Composer of the Year sponsored by PRS for Music in the MG ALBA Scots Trad Music Awards 2022. Vote for Mohsen Amini now!. It's going to be another great night at the MG ALBA Scots Trad Music Awards on Sunday 4th December in Dundee's Caird Hall. Why not join us for a brilliant night of music and awards. Buy a ticket here.
We asked Mohsen of Mohsen Amini the following questions.
Tell us about yourself
I'm basically just a concertina player from Glasgow who enjoys an unhealthy amount of social media!
In reference to composing I'll say more later down the page but this year I worked on a film called "WINNERS" in which I was one of 2 named composers on it and it has just been selected by the BAFTAS as the UK entry into the OSCARS which is absolutely mind blowing news to me!
In 2014 I co-founded Talisk, who were lucky enough to win a BBC Radio 2 Folk Award shortly after forming. We've so far released three albums and played all over the world at some incredible shows including closing out Saturday nights main stage at the 2019 Cambridge Folk Festival, three back to back years at Philadelphia Folk Festival, four at Tønder Festival and five at Celtic Connections.
In 2016 I managed to win the BBC Radio Scotland Young Musician of the Year and then in 2018 the BBC Radio 2 Musician of the Year. It was a bit mental to say the least and pretty much the happiest time of my entire life!
Through this I also co-founded Imar and much like Talisk we toured all over the world and are just about to get stuck into our third album!
With both bands we've managed to tally up online streaming credits of close to 20 million and collectively we really can't believe it.
Along side this on the side I've a few projects and have started writing quite a lot which I suppose is why I'm here now and you'll be able to read about below 🙂
Why are you involved in Scottish music?
After growing up around Irish music I only realised there was a Scottish Scene when I was about 16 and wow, did everything change! The scene has music all over the globe and promote people to start bands and push to the next level, it's incredibly encouraging and mind blowing! I wouldn't be performing and it certainly wouldn't be my career if I hadn't become part of it! I instantly fell in love with it and have never looked back.
Any particular career highlights?
EIFF Audience Award, BIFA Discovery Award (longlist), BAFTA selected U.K. entry for the Oscars.
As I said before year I was asked to write/record the music and be 1 of 2 named composer on "WINNERS", a feature length Iranian film directed by the incredible Hassan Nazer. It's has went on to achieve everything I've wrote above and personally I've been blown away by the success of it all and am incredibly proud!
I finally got to compose music from Iran. Absolutely over the moon.
That was followed by being to commissioned to write a full 40 minute orchestra in Ireland which I'm not going to lie… took months of work and it was all incredibly worth it!!
Then I managed to have music which I wrote from Talisk & Fourth Moon getting picked up to be used on a full feature video game called Highlander which is soon to be released!
It's been an incredible year of writing music which was very unexpected!!
With the bands we have been very lucky to have some incredible highlights. Playing on the BBC Hogmanay Show this year, closing the main stage of Cambridge Folk Festival, travelling to Malaysia for the rainforest world music festival. It's very exciting and I am looking forward to what's coming next year!!
What are your plans for the future?
We are cracking into writing the next album's for both Imar & Talisk next year, recording the orchestral commission and then we are getting ready to smash 2023. There are so many different things planned for next year. Potential collaborations, big touring plans and some absolute huge festival announcements! I'm just happy to be involved at this point! Loving every minute!
Mohsen Amini Social Media
Website: Http://mohsenamini.com
Facebook: @mohsenaminimusic
Twitter: @mohsenaminimuso
Instagram: @mohsenamini
YouTube: @mohsenamini
TikTok: @mohsenaminimusic
The 2022 MG ALBA Scots Trad Music Awards are back to normal on the 4th December 2022! You will be able to watch it live in person (buy a ticket here),Watch it live in the UK at 9pm (GMT) on BBC ALBA and and around the world here. Bands performing on Sunday 4th December include Elephant Sessions, Fara, Trip, Eryn Rae Trio, The Auldeners, Gordon Shand Scottish Dance Band, Irish Minstrels, Tayside Young Fiddlers, and a James Alexander Tribute.
If you would like to support Hands Up for Trad in their work with Scottish trad music and musicians why not become a friend of Hands Up for Trad. In addition to our high profile events like the Scots Trad Music Awards, we also deliver a less well known, education programme for young people from 8yrs right through to young adults at the start of their careers. Read more here.