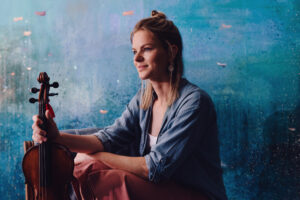 Congratulations to Megan Henderson who has been nominated in Musician of the Year sponsored by The University of the Highlands and Islands in the MG ALBA Scots Trad Music Awards 2022. Vote for Megan Henderson now!. It's going to be another great night at the MG ALBA Scots Trad Music Awards on Sunday 4th December in Dundee's Caird Hall. Why not join us for a brilliant night of music and awards. Buy a ticket here.
We asked Megan of Megan Henderson the following questions.
Tell us about yourself
I am a multi instrumentalist and singer and come from the West Highland town of Fort William.
I studied Classical Violin at the RSAMD and upon graduating in 2010 I joined Scottish folk group Breabach. We have had a whirlwind 12 years of touring and recording and been involved in some really exciting collaborations with acts such as Le Vent Du Nord (Quebec), Beolach (Cape Breton) and Moana and the Tribe (Nz). Our most recent collaboration was with Bafta winning animator Cat Bruce to create 'Dusgadh', a short film with original musical score.
Alongside Breabach I have been fortunate to perform with Grit Orchestra, Salsa Celtica, and regularly play with Kim Carnie and Duncan Chisolm amongst many others.
I released my debut solo album 'Pilgrim Souls' at Celtic Connections this year. The album is self penned and was inspired by the beautiful artwork of fellow Lochaber native Christine Clark. It was a big step for me to take on a solo project rather than play a supporting role and I have really enjoyed that challenge and had a great time touring the music this summer.
Why are you involved in Scottish music?
I am the youngest of 7 siblings who all played traditional music so it has been with me from the very beginning of my life. Although I studied Classical violin it is Traditional music and culture that has always been my passion.
Any particular career highlights?
Working on the cross cultural project 'Boomerang' in 2014 was an incredibly powerful experience, and one I am forever grateful for.
What are your plans for the future?
To keep playing, sharing and enjoying music!
Megan Henderson Social Media
Website: https://www.meganhendersonmusic.com/
Facebook: @https://www.facebook.com/Meganhendersonmusic
Twitter: @meganhen_music
Instagram: @https://www.instagram.com/mhenderson/
YouTube: @https://www.youtube.com/watch?v=ixbhB044eMQ
TikTok: @
The 2022 MG ALBA Scots Trad Music Awards are back to normal on the 4th December 2022! You will be able to watch it live in person (buy a ticket here),Watch it live in the UK at 9pm (GMT) on BBC ALBA and and around the world here. Bands performing on Sunday 4th December include Elephant Sessions, Fara, Trip, Eryn Rae Trio, The Auldeners, Gordon Shand Scottish Dance Band, Irish Minstrels, Tayside Young Fiddlers, and a James Alexander Tribute.
If you would like to support Hands Up for Trad in their work with Scottish trad music and musicians why not become a friend of Hands Up for Trad. In addition to our high profile events like the Scots Trad Music Awards, we also deliver a less well known, education programme for young people from 8yrs right through to young adults at the start of their careers. Read more here.