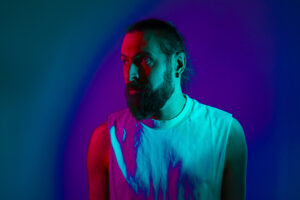 Congratulations to Marcas Mac an Tuairneir who has been nominated in Gaelic Singer of the Year sponsored by The Highland Society of London in the MG ALBA Scots Trad Music Awards 2022. Vote for Marcas Mac an Tuairneir now!. It's going to be another great night at the MG ALBA Scots Trad Music Awards on Sunday 4th December in Dundee's Caird Hall. Why not join us for a brilliant night of music and awards. Buy a ticket here.
We asked Marcas of Marcas Mac an Tuairneir the following questions.
Tell us about yourself
A Mòd Gold Medal Finalist in 2016 and 2021, Marcas Mac an Tuairneir was also a Traditional Gold Medal Finalist in 2019. Over the last few years has also pioneered the GaelPop genre, creating radio-friendly music in the Gaelic language, which speaks to contemporary experience, alongside a host of songwriting collaborators. His Creative Scotland-funded début album Speactram, established him as a feature of the international music scene, with contemporary Gaelic songwriting referencing the tradition and the Pop and RnB Bangers of the eighties and nineties, produced by Nick Turner, Adam Holmes, Gary Keane and Rod Thomas (Bright Light Bright Light). His songs have been lauded at consecutive Royal National Mòds, where he has won the Alan Forrester (Carloway) Cup three times, for Best New Gaelic Song. Marcas is known for his songwriting partnerships with well known Gaelic musicians and his lyrics have featured on albums by the likes of Mary Ann Kennedy and Rachel Walker, with whom he regularly collaborates.
Why are you involved in Scottish music?
The music within Speactram has an unmistakingly urban sound for Gaelic music and Marcas' aim with this genre is to give an 'in' to those who do not comfortably fit the Gaelic paradigm or who come from non-Gaelic speaking and diverse backgrounds – primarily new speakers and young people going through Gaelic-medium Education.
While encapsulating the mood of the contemporary in Gaelic song, Marcas was also determined to address the absence of LGBTQI+ narrative within the Gaelic corpus. Speactram aims to add a gay, genderqueer voice to the language's musical soundscape and recognise the role that queer people have always played in shaping and influencing the wider cultural scene – continually sitting at the forefront of the musical avant-garde specifically.
Any particular career highlights?
Marcas' cites his lyric writing credits and the personal connection these works have made with audiences as his primary career highlights. These have included song settings and choral arrangements by Mary Ann Kennedy, Grioglachan (for her first album An Dàn) and Ainneamhag, which took second place in the Lovat and Tullibardine at the 2016 Mòd on Fort William for Inverness Gaelic Choir. His creative partnership with Rachel Walker continues to yield some of the best contemporary songwriting in Gaelic, with songs featuring on her last album, Gaol, and forthcoming release alongside Aaron Jones.
Performance highlights have included Belladrum and Celtic Connections alongside male-voice ensemble, and Celtic Connections, twice, with Bogha-frois.
Marcas' debut solo album, Speactram, has had 40,000 streams on Spotify since its July 2023 release, with one of the lead songs, Calman, receiving 25,000 streams alone.
The Foras na Gaeilge-funded Òran na Cille Project, brought together musicians and translators from across Scotland, Ireland and the Isle of Man, with the project centred on Marcas 2017 Wigtown Gaelic Poetry Competiton-winning lyric of the same name. The filmpoems and music videos that the project spawned have been viewed more than 100,000 times on YouTube.
What are your plans for the future?
Marcas has been writing music alongside Ross Whyte for the second iteration of Ceòl is Craic's Sradagan na Sràide project. The duo plan to record and release these tracks in 2023.
Marcas is also writing songs for his second album, encouraged and inspired by the positive response to Speactram.
His fourth poetry collection has garnered significant critical acclaim through and is shortlisted for a Saltire Society Award. Marcas is currently researching his fifth collection and will soon release Cruinneachadh, a volume of translations of poems from across the Atlantic Archipelago and beyond with Drunk Muse Press.
Marcas Mac an Tuairneir Social Media
Website: https://www.marcasmac.scot
Facebook: @marcasmacceol
Twitter: @marcas_mac
Instagram: @marcas_mac
YouTube: @MarcasMacAnTuairneirAlba
TikTok: @marcas_mac
The 2022 MG ALBA Scots Trad Music Awards are back to normal on the 4th December 2022! You will be able to watch it live in person (buy a ticket here),Watch it live in the UK at 9pm (GMT) on BBC ALBA and and around the world here. Bands performing on Sunday 4th December include Elephant Sessions, Fara, Trip, Eryn Rae Trio, The Auldeners, Gordon Shand Scottish Dance Band, Irish Minstrels, Tayside Young Fiddlers, and a James Alexander Tribute.
If you would like to support Hands Up for Trad in their work with Scottish trad music and musicians why not become a friend of Hands Up for Trad. In addition to our high profile events like the Scots Trad Music Awards, we also deliver a less well known, education programme for young people from 8yrs right through to young adults at the start of their careers. Read more here.