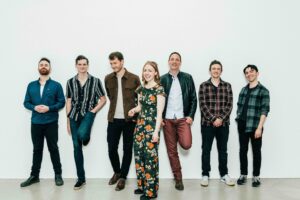 Congratulations to Mànran who has been nominated in Live Act of the Year sponsored by Greentrax Recordings in the MG ALBA Scots Trad Music Awards 2022. Vote for Mànran now!. It's going to be another great night at the MG ALBA Scots Trad Music Awards on Sunday 4th December in Dundee's Caird Hall. Why not join us for a brilliant night of music and awards. Buy a ticket here.
We asked Ewen of Mànran the following questions.
Tell us about yourself
Multi award-winning Scottish supergroup Mànran have been at the heart of the Scottish traditional music scene for over a decade. Internationally recognised as one of the most iconic and respected Scottish bands on the road today, the seven-piece show no signs of slowing down as they continue to push boundaries and explore new musical and geographical territory, bringing their uplifting and unique live performances to stages across the world.
Why are you involved in Scottish music?
Scottish traditional music is at the heart of everything we do as a band. Performing at home or abroad, the opportunity to share our passion for Scottish music is a constant source of motivation and, over the years, our greatest pleasure has been in being able to inspire a similar love for the music in others. Plus, it's great craic.
Any particular career highlights?
Winning "Album of the Year" at the Scots Trad Music Awards in 2011.
What are your plans for the future?
All roads currently lead to Glasgow's OVO Hydro and our performance at "Hoolie in the Hydro" on December 17th. Beyond that, we've already started putting together new pieces of music we plan to release through 2023.
Mànran Social Media
Website: https://manran.co.uk
Facebook: @ManranOfficial
Twitter: @ManranOfficial
Instagram: @manrancam
YouTube: @ManranTV
TikTok: @
The 2022 MG ALBA Scots Trad Music Awards are back to normal on the 4th December 2022! You will be able to watch it live in person (buy a ticket here),Watch it live in the UK at 9pm (GMT) on BBC ALBA and and around the world here. Bands performing on Sunday 4th December include Elephant Sessions, Fara, Trip, Eryn Rae Trio, The Auldeners, Gordon Shand Scottish Dance Band, Irish Minstrels, Tayside Young Fiddlers, and a James Alexander Tribute.
If you would like to support Hands Up for Trad in their work with Scottish trad music and musicians why not become a friend of Hands Up for Trad. In addition to our high profile events like the Scots Trad Music Awards, we also deliver a less well known, education programme for young people from 8yrs right through to young adults at the start of their careers. Read more here.