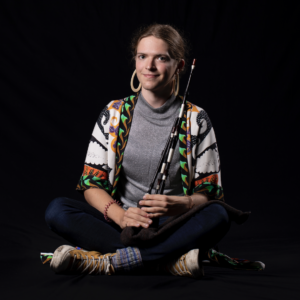 Congratulations to Malin Lewis who has been nominated in Up and Coming Artist of the Year sponsored by Royal Conservatoire of Scotland in the MG ALBA Scots Trad Music Awards 2022. Vote for Malin Lewis now!. It's going to be another great night at the MG ALBA Scots Trad Music Awards on Sunday 4th December in Dundee's Caird Hall. Why not join us for a brilliant night of music and awards. Buy a ticket here.
We asked Malin of Malin Lewis the following questions.
Tell us about yourself
My name is Malin, I play effervescent folk on a newly invented bagpipe with live electronics inspired by life, queerness and the universe.
I am drawn to that which I do not fully understand and think there is beauty in the unknown.
I am a multi-instrumentalist and teach improvisation at the National Piping Centre.
This January I will premiere my New Voices commission 'Halocline' at Celtic Connections with the most amazing band I could ask for!
The piece is named after the layer bodies of fresh and salt water. I sequence of compositions reflecting on the liminal spaces between my outer and inner worlds. There will be moments of weirdness, moments of joy and moments for dancing.
Why are you involved in Scottish music?
There's something innately raw about beautiful about our traditional music. I was always fascinated by the sound of the bagpipes which led me to start making them. It's a love of timbre that got me into Scottish folk and it's this love of sound that has kept me here.
Any particular career highlights?
Playing with Anxo Lorenzo's band at Celtic Connections Festival Club and then getting the 500 strong audience to sing Hector the Hero acapella
Travelling around the highlands with my band performing in village halls this summer
Performing an all improvised set at Dandelion festival with Jason Singh, Liz Hanks, Sodhi Tabla and some houseplants
Performing avant-garde bagpipes at this year's PipingLive! festival then literally running down Sauchiehall street with my pipes to perform a commission I wrote for the National Youth Pipe Band of Scotland in the Royal Concert Hall.
Taking part in Making Tracks international residency and touring the UK with them.
What are your plans for the future?
Record my debut album!
Spend more time improvising and sharing musical connections with people.
Performing across the UK with my band and meeting new people.
Collaborate with different musicians and do more more inter disciplinary art with dance movement and theatre.
Malin Lewis Social Media
Website: https://www.instagram.com/malinmakesmusic/
Facebook: @https://www.facebook.com/MalinmakesMusic/
Twitter: @
Instagram: @https://www.instagram.com/malinmakesmusic/
YouTube: @https://www.youtube.com/watch?v=_LMMkqRUFvM
TikTok: @
The 2022 MG ALBA Scots Trad Music Awards are back to normal on the 4th December 2022! You will be able to watch it live in person (buy a ticket here),Watch it live in the UK at 9pm (GMT) on BBC ALBA and and around the world here. Bands performing on Sunday 4th December include Elephant Sessions, Fara, Trip, Eryn Rae Trio, The Auldeners, Gordon Shand Scottish Dance Band, Irish Minstrels, Tayside Young Fiddlers, and a James Alexander Tribute.
If you would like to support Hands Up for Trad in their work with Scottish trad music and musicians why not become a friend of Hands Up for Trad. In addition to our high profile events like the Scots Trad Music Awards, we also deliver a less well known, education programme for young people from 8yrs right through to young adults at the start of their careers. Read more here.