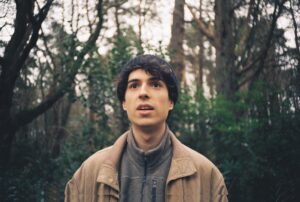 Congratulations to Lewis McLaughlin who has been nominated in Up and Coming Artist of the Year sponsored by Royal Conservatoire of Scotland in the MG ALBA Scots Trad Music Awards 2022. Vote for Lewis McLaughlin now!. It's going to be another great night at the MG ALBA Scots Trad Music Awards on Sunday 4th December in Dundee's Caird Hall. Why not join us for a brilliant night of music and awards. Buy a ticket here.
We asked Lewis of Lewis McLaughlin the following questions.
Tell us about yourself
Edinburgh-born Lewis McLaughlin was inspired by the likes of John Martyn and Villagers to begin writing and recording his own songs. He has performed across Europe in various outfits, accompanying his father at folk shows and playing with his brother in a folk duo before going solo.
He currently lives in Glasgow, and has just released his debut album, on Andy Monaghan's (Frightened Rabbit) Monohands Records. Lewis has performed at various festivals with his solo project including Glastonbury, Belladrum, Otherlands and Connect.
He has been championed by various BBC Radio Scotland shows, the Zoe Ball breakfast show, and has appeared on TV as part of BBC 2's coverage of Glastonbury 2022. He has been featured by the likes of NME and Rolling Stone UK.
Rollin' On, the new EP, comes quickly after winning the Glastonbury Emerging Talent Competition and follows a packed summer of festival performances across the UK. Monohands Records present this raw dynamic EP, widening the landscape of McLaughlins cinematic approach to songwriting.
Why are you involved in Scottish music?
I grew up surrounded by traditional Scottish music, both my parents are traditional musicians. I've been playing music since I was five, and have been gigging on the folk scene since I was 15.
Any particular career highlights?
I won the Glastonbury Emerging talent competition this year, which meant that me and my band got to go down and play (four times) at the biggest music festival in the world! So that was pretty epic. Also releasing my debut album back in March has been a big highlight for me. I just did my first Scottish tour with my trio in October, it felt great to get out on the road across the country for the first time!
What are your plans for the future?
I have my biggest headline show so far in January at the CCA as part of Celtic Connections, following that I plan to get out the country with my live show next year, and continue to write and record new music with Andy and my band.
Lewis McLaughlin Social Media
Website: https://www.lewismclaughlinmusic.com/
Facebook: @lewismclauughlinmusic
Twitter: @LewisSings
Instagram: @lewismclaughlinmusic
YouTube: https://www.youtube.com/channel/UC-X2fm3pMBQHj6ogrzuQqUA
TikTok: @lewismclaughlinmusic
The 2022 MG ALBA Scots Trad Music Awards are back to normal on the 4th December 2022! You will be able to watch it live in person (buy a ticket here),Watch it live in the UK at 9pm (GMT) on BBC ALBA and and around the world here. Bands performing on Sunday 4th December include Elephant Sessions, Fara, Trip, Eryn Rae Trio, The Auldeners, Gordon Shand Scottish Dance Band, Irish Minstrels, Tayside Young Fiddlers, and a James Alexander Tribute.
If you would like to support Hands Up for Trad in their work with Scottish trad music and musicians why not become a friend of Hands Up for Trad. In addition to our high profile events like the Scots Trad Music Awards, we also deliver a less well known, education programme for young people from 8yrs right through to young adults at the start of their careers. Read more here.