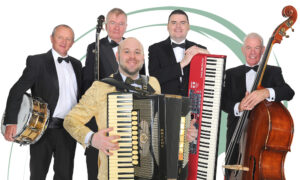 Congratulations to Leonard Brown and his All Star Band who has been nominated in Scottish Dance Band of the Year sponsored by National Association of Accordion and Fiddle Clubs in the MG ALBA Scots Trad Music Awards 2022. Vote for Leonard Brown and his All Star Band now!. It's going to be another great night at the MG ALBA Scots Trad Music Awards on Sunday 4th December in Dundee's Caird Hall. Why not join us for a brilliant night of music and awards. Buy a ticket here.
We asked Leonard of Leonard Brown and his All Star Band the following questions.
Tell us about yourself
Leonard and his All Star Band have been a continuous ensemble since 2016. They have travelled the length and breadth of the country performing in theatres, concert halls, town halls and village halls. They have recorded 7 albums at Castlesound Studios and their CD 'Next Dance, Please' won an award for album of the year at the National Association Box and Fiddle Awards in 2019. Leonard has been voted guest musician of the year on 2 occasions and continues to show his entrepreneurial skills as an organiser of these shows and dance and music weekends across the country. He spends his spare time helping to run 4 of the accordion and fiddle clubs on the circuit as chairman, treasurer, secretary, compère and accompanist. His band have a total combined 200 years worth of experience in traditional music and this creates the foundation for Leonard to create a modernistic approach with his own sound and style whilst incorporating the respect of the music that has went before keeping the important traditional values at the core.
Why are you involved in Scottish music?
Having being involved in music since the age of 4, Leonard benefitted in the early years from piano tuition which allowed him to progress and develop at a faster rate when he starting learning the accordion aged 11. He achieved grade 8 on piano age 15 and became the All Scotland Accordion Champion in 2012, the same year he graduated with a Bachelor of Arts in Music at Newcastle University. Listening to Scottish Dance Bands and Virtuoso accordionists, Leonard's main focus of early learning was based around this type of music, creating a love for the traditional scottish idiom. As a virtuoso, he also plays light classical pieces as well as traditional styles from all over the world including Canada, The Americas and Europe. Having the All Star Band musicians around him, he's able to play almost all types of music and really get the most out of the accordion as an instrument.
Any particular career highlights?
Recording our albums each year at Castlesound Studios is always a highlight, performing in the theatres of Scotland is always a pleasure and the dance weekends are the coming together of many likeminded people from all over the country to one venue for a weekend, which is always a great experience. One of the early career highlights was doing a living tribute to one of Leonard's idols, Tom Alexander MBE who retired in 2016 and the band was setup specifically to recreate Tom's sound and we performed to 300 people in the Salutation Hotel, Perth with Tom in the front row where he received a lifetime achievement award for his services to entertainment.
What are your plans for the future?
We plan to continue our shows, concerts and music events as well as recording a new album in February 2023 alongside Shetland Fiddler, Maggie Adamson.
Leonard Brown and his All Star Band Social Media
Website: http://leonardbrownaccordion.co.uk
Facebook: @leonardbrownaccordion
Twitter: @
Instagram: @
YouTube: @ https://m.youtube.com/channel/UCqACXkfVN0mIPCEYf39pAJg
TikTok: @
The 2022 MG ALBA Scots Trad Music Awards are back to normal on the 4th December 2022! You will be able to watch it live in person (buy a ticket here),Watch it live in the UK at 9pm (GMT) on BBC ALBA and and around the world here. Bands performing on Sunday 4th December include Elephant Sessions, Fara, Trip, Eryn Rae Trio, The Auldeners, Gordon Shand Scottish Dance Band, Irish Minstrels, Tayside Young Fiddlers, and a James Alexander Tribute.
If you would like to support Hands Up for Trad in their work with Scottish trad music and musicians why not become a friend of Hands Up for Trad. In addition to our high profile events like the Scots Trad Music Awards, we also deliver a less well known, education programme for young people from 8yrs right through to young adults at the start of their careers. Read more here.