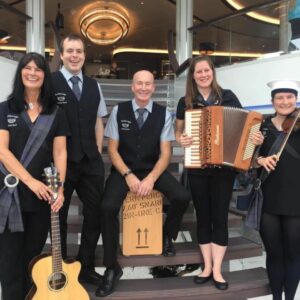 Congratulations to KIRKJUVAGR CEILIDH BAND who has been nominated in Scottish Dance Band of the Year sponsored by National Association of Accordion and Fiddle Clubs in the MG ALBA Scots Trad Music Awards 2022. Vote for KIRKJUVAGR CEILIDH BAND now!. It's going to be another great night at the MG ALBA Scots Trad Music Awards on Sunday 4th December in Dundee's Caird Hall. Why not join us for a brilliant night of music and awards. Buy a ticket here.
We asked Kathleen of KIRKJUVAGR CEILIDH BAND the following questions.
Tell us about yourself
We are a 5 piece family band from the Orkney Islands including accordion, fiddle, drums, guitar and keyboard. Our pride and passion is promoting all aspects of Scottish traditional dancing and music.
We are particularly focused on encouraging the younger generations to get involved and dance calling has become an integral part of what we do, hence ensuring the longevity of Scottish, Ceilidh and Country dancing.
We delight in playing to a dance hall full of enthusiastic dancers but equally enjoy a very appreciative listening audience at concert venues. We take pride in sharing our love of Orkney through our repertoire of Scottish, Orcadian and self penned tunes and the stories behind these.
In recent years we have been able to bring a full cultural experience to visiting cruise liners. It gives us such pleasure to see visitors from all over the world, dancing the Orcadian Strip The Willow.
Why are you involved in Scottish music?
We were all brought up in communities where Scottish music and dancing was integral to any celebration and we were always eager to join in. We have made many friends over the years who share our love of Scottish music and dancing and feel it is so important to continue these Scottish traditions.
Any particular career highlights?
We have so many highlights!!! Being part of the fantastic Shetland Accordion and Fiddle Festival, Hogmanay Weekends at The Carrbridge Hotel, organised by Pan Records, playing at the Accordion and Fiddle clubs, playing on board visiting cruise liners and the many dances we have played for near and far. Recording our 3 cds at Attic Records was such a privilege but the 1 unforgettable occassion was receiving our first standing ovation, from a capacity audience, at the Highland Accordion and Fiddle Club in Inverness.
What are your plans for the future?
We wish to continue promoting Scottish dancing and music within and out with Orkney. Locally we will continue to encourage all ages to dance through our family Ceilidhs. We would also like to record a dvd and continue composing our own music.
KIRKJUVAGR CEILIDH BAND Social Media
Website:
Facebook: Kirkjuvagr Ceilidh Band – 2022 http://www.facebook.com/profile.pho?id=100082984134639
YouTube: Kirkjuvagr Ceilidh Band
The 2022 MG ALBA Scots Trad Music Awards are back to normal on the 4th December 2022! You will be able to watch it live in person (buy a ticket here),Watch it live in the UK at 9pm (GMT) on BBC ALBA and and around the world here. Bands performing on Sunday 4th December include Elephant Sessions, Fara, Trip, Eryn Rae Trio, The Auldeners, Gordon Shand Scottish Dance Band, Irish Minstrels, Tayside Young Fiddlers, and a James Alexander Tribute.
If you would like to support Hands Up for Trad in their work with Scottish trad music and musicians why not become a friend of Hands Up for Trad. In addition to our high profile events like the Scots Trad Music Awards, we also deliver a less well known, education programme for young people from 8yrs right through to young adults at the start of their careers. Read more here.