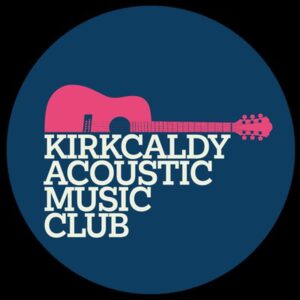 Congratulations to Kirkcaldy Acoustic Music Club who has been nominated in Club of the Year sponsored by The Fraser Shaw Trust in the MG ALBA Scots Trad Music Awards 2022. Vote for Kirkcaldy Acoustic Music Club now!. It's going to be another great night at the MG ALBA Scots Trad Music Awards on Sunday 4th December in Dundee's Caird Hall. Why not join us for a brilliant night of music and awards. Buy a ticket here.
We asked David of Kirkcaldy Acoustic Music Club the following questions.
Tell us about yourself
Kirkcaldy Acoustic Music Club (KAMC) has been a favourite venue for musicians and gig goers alike for the last two decades, run by a faithful team of volunteers. The club's gigs take place in the Polish Ex-Servicemen's Club, a brilliant old building full of character and history.
Prior to the pandemic, the club was organised by Sandy Forbes who made a point of looking after the musicians, whatever point in their career they were at and wherever in the world they were from. The club's members have always created a unique, supportive and lively atmosphere, whilst being kept in check by our hilarious (and fierce) compère Fiona Forbes.
The club's gigs stopped for 2 years during the pandemic, at which point Sandy chose to take a well-earned step back and handover the reigns to a new generation. The club relaunched with a sold-out concert in June 2022, under the management of Fife singer-songwriter and guitarist David Hershaw. That gig proved a huge success, featuring local musicians and club favourites, with a huge intake of new members ready to hear live music again. Since then, the club has welcomed acclaimed acts such as Salt House, Findlay Napier, Catriona Mckay and Chris Stout, Rab Noakes and more.
Despite the change in management, the rest of the club's enthusiastic team of volunteers remain and still provide a great experience for touring musicians. (Club members Mary and Davey Stewart's home cooking remains unchallenged!) Fiona's excellent MC and raffle drawing skills continue to entertain audiences, as do her famous "Club Rules":
– Dinnae blether during the music
– Nae crisps (known as the Duncan Chisholm rule, after someone crunched a packet of salt and vinegar during his slow air)
– Nae drinking the raffle prizes
It's been a brilliant year for the club, returning to bring top quality live music to packed audiences every fortnight. The club's strength has always been its openness to different types of acoustic music and an ability to attract audience members of all generations and backgrounds. As we always tell the crowd at the end of each night, "without a live audience, there would be no such thing as live music".
Why are you involved in Scottish music?
The club is run by enthusiasts of live music, people who would attend the gigs even if they weren't involved in the organising of them and who regular support other gigs throughout Scotland. Scotland's culture is our greatest export, it's our job to keep live music thriving for future generations.
Any particular career highlights?
Over the years, the club has had many world-famous musicians play and bring their talents to the polish club. One that stands out was Michael Marra's visit to Kirkcaldy, with his baffies on and his keyboard on an ironing board. Every song was memorable and he had a magical ability to make incredibly local observations take on universal meaning.
In recent times, it was brilliant to celebrate local songwriter David Latto's work in front of a capacity crowd. A highly talented songwriter in the modern Scottish music scene.
What are your plans for the future?
We hope to close this year out with club favourites Kinrick on 30th December, for a special fundraising gig to raise funds for local foodbanks. We're heading into some challenging times for many people and clubs like ours can hopefully provide some enjoyment and relief within communities. More than ever, working musicians need to be supported and hopefully the club can continue to do that.
Kirkcaldy Acoustic Music Club Social Media
Website: https://www.kirkcaldyacousticmusicclub.co.uk/
Facebook: https://www.facebook.com/KirkcaldyAcousticMusicClub
Twitter: @
Instagram: @kirkcaldyacousticmusicclub
YouTube: @
TikTok: @
The 2022 MG ALBA Scots Trad Music Awards are back to normal on the 4th December 2022! You will be able to watch it live in person (buy a ticket here),Watch it live in the UK at 9pm (GMT) on BBC ALBA and and around the world here. Bands performing on Sunday 4th December include Elephant Sessions, Fara, Trip, Eryn Rae Trio, The Auldeners, Gordon Shand Scottish Dance Band, Irish Minstrels, Tayside Young Fiddlers, and a James Alexander Tribute.
If you would like to support Hands Up for Trad in their work with Scottish trad music and musicians why not become a friend of Hands Up for Trad. In addition to our high profile events like the Scots Trad Music Awards, we also deliver a less well known, education programme for young people from 8yrs right through to young adults at the start of their careers. Read more here.