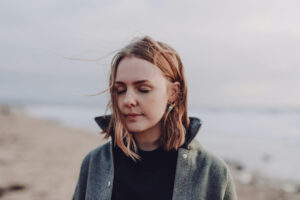 Congratulations to Kim Carnie who has been nominated in Album of the Year sponsored by Birnam CD, Trad Video of the Year in the MG ALBA Scots Trad Music Awards 2022. Vote for Kim Carnie now!. It's going to be another great night at the MG ALBA Scots Trad Music Awards on Sunday 4th December in Dundee's Caird Hall. Why not join us for a brilliant night of music and awards. Buy a ticket here.
We asked Kim of Kim Carnie the following questions.
Tell us about yourself
Award-winning singer and composer, Kim Carnie, has featured not only on some of the UK's biggest stages, but across the world via film and computer game soundtracks, including Netflix's Outlaw King, Black Mirror and The Bard's Tale. Since launching her solo career in 2018, Kim has become one of the most sought-after singers and session vocalists that Scotland has to offer, having worked with producers including Jim Sutherland (Salmon Fishing in the Yemen), Donald Shaw (Capercaillie) and Ged Grimes (Simple Minds). In 2019 and 2020, she also joined bands Mànran and Staran, respectively, as lead singer.
A respected composer, Kim has been commissioned to compose new music for the Blas Festival, the Scottish Storytelling Centre, multiple computer game companies and is currently working on the soundtrack for an upcoming documentary.
Summer 2022 saw the release of her debut solo album 'And So We Gather'. The album has been recognised as one of the 'biggest folk and Gaelic records of the generation', bringing together some of the brightest names on the Scottish music scene, from Donald Shaw, Julie Fowlis and Karen Matheson, to Senegalise Kora player Kadialy Kouyate and award-winning saxophonist Matt Carmichael.
'celebratory and gorgeous' – Songlines
'a masterclass in how to create a Gaelic record' – Shire folk
'something magnificent' – Snack Mag
Why are you involved in Scottish music?
Growing up in Oban, I was surrounded by the Ceilidh culture. I've always loved Gaelic song and story. Over the years, I have been influenced by the wider folk scene, at both home and away.
Any particular career highlights?
One of my favourite gigs will always be 'Òrain nan Gàidheal' – a night at Celtic Connections which celebrated Gaelic Song in collaboration with the BBC SSO. I shared the stage with some of my favourite Gaelic singers.
Releasing my debut solo album this year was a highlight too – getting to work with musicians I admire. I worked with an orchestra for the album too, this time the Scottish Session Orchestra. A genuine privilege.
This autumn, I headed to Celtic Colours with Staran – that was a special time too.
What are your plans for the future?
Throughout 2023, I will continue to be on tour with my own band, as well as Staran and Mànran. I am currently writing new music for a documentary I am involved in too, and I believe that the documentary will be premiered within the year too.
Kim Carnie Social Media
Website: http://www.kimcarnie.com
Facebook: @kimcarnie
Twitter: @kim_carnie
Instagram: @kimcarnie
YouTube: @
TikTok: @
The 2022 MG ALBA Scots Trad Music Awards are back to normal on the 4th December 2022! You will be able to watch it live in person (buy a ticket here),Watch it live in the UK at 9pm (GMT) on BBC ALBA and and around the world here. Bands performing on Sunday 4th December include Elephant Sessions, Fara, Trip, Eryn Rae Trio, The Auldeners, Gordon Shand Scottish Dance Band, Irish Minstrels, Tayside Young Fiddlers, and a James Alexander Tribute.
If you would like to support Hands Up for Trad in their work with Scottish trad music and musicians why not become a friend of Hands Up for Trad. In addition to our high profile events like the Scots Trad Music Awards, we also deliver a less well known, education programme for young people from 8yrs right through to young adults at the start of their careers. Read more here.