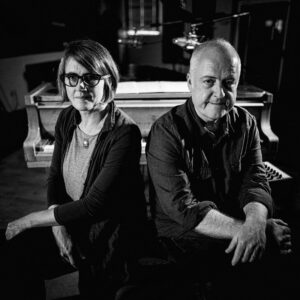 Congratulations to Karine Polwart & Dave Milligan who has been nominated in Album of the Year sponsored by Birnam CD in the MG ALBA Scots Trad Music Awards 2022. Vote for Karine Polwart & Dave Milligan now!. It's going to be another great night at the MG ALBA Scots Trad Music Awards on Sunday 4th December in Dundee's Caird Hall. Why not join us for a brilliant night of music and awards. Buy a ticket here.
We asked Karine of Karine Polwart & Dave Milligan the following questions.
Tell us about yourself
Seven-time winner at the BBC Radio 2 Folk Awards, including 2018 Folk Singer of The Year, Karine Polwart's 2021 project is a collaboration with renowned jazz/folk pianist Dave Milligan.
Piano and voice isn't a combination that you hear often in the folk idiom, and yet it can be just as potent, if not more so, than a full band, and the duo's album is just this – an intimate, stripped-back collection of songs performed entirely with voice and grand piano. Deceptively simple, yet devastatingly powerful. 'Still As Your Sleeping' (Oct '21) is threaded through with images of stillness and flux, leaving and returning, and pivots of change and includes the timeless and poignant 'The Parting Glass' as requested by Margaret Atwood for her specially curated BBC Radio 4 Today programme.
"One voice and one piano can hold a lot of space, a lot of feeling", says Polwart. "Some of these songs are brand new, whilst others have been on my tongue for two decades and more, which is as long as I've known Dave".
Although known primarily as a jazz pianist, Dave's writing and arranging often distils folk and traditional influences, making him the perfect creative partner for Karine. Both musicians live in the same Midlothian village and that familiarity is evident in the music. It's a magical combination, and as Karine says "It's never felt more important to me to make music, and tell stories, from exactly where I am, with the people I live alongside, my friends and neighbours."
Why are you involved in Scottish music?
N/A
Any particular career highlights?
N/A
What are your plans for the future?
N/A
Karine Polwart & Dave Milligan Social Media
Website: https://karinepolwart.com
Facebook: @karinepolwart
Twitter: @IAMKP
Instagram: @karinepolwart
YouTube: @karinepolwart
TikTok: @
The 2022 MG ALBA Scots Trad Music Awards are back to normal on the 4th December 2022! You will be able to watch it live in person (buy a ticket here),Watch it live in the UK at 9pm (GMT) on BBC ALBA and and around the world here. Bands performing on Sunday 4th December include Elephant Sessions, Fara, Trip, Eryn Rae Trio, The Auldeners, Gordon Shand Scottish Dance Band, Irish Minstrels, Tayside Young Fiddlers, and a James Alexander Tribute.
If you would like to support Hands Up for Trad in their work with Scottish trad music and musicians why not become a friend of Hands Up for Trad. In addition to our high profile events like the Scots Trad Music Awards, we also deliver a less well known, education programme for young people from 8yrs right through to young adults at the start of their careers. Read more here.