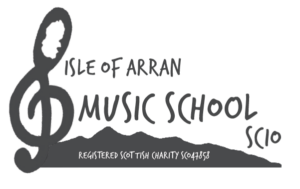 Congratulations to Isle of Arran Music School who has been nominated in Community Project of the Year sponsored by Innes and Campbell Communications in the MG ALBA Scots Trad Music Awards 2022. Vote for Isle of Arran Music School now!. It's going to be another great night at the MG ALBA Scots Trad Music Awards on Sunday 4th December in Dundee's Caird Hall. Why not join us for a brilliant night of music and awards. Buy a ticket here.
We asked Quinton of Isle of Arran Music School the following questions.
Tell us about yourself
The organisation's purposes are to advance the musical education of young people living on the Isle of Arran; to promote our national heritage and culture; and to increase public exposure to, appreciation of, and involvement in music and the performing arts. This will be done by:
Encouraging participation, nurturing talent and providing musical tuition and activities which support or enhance existing provision by the North Ayrshire Council Music Service.
Providing opportunities for young people on Arran to come together to participate in, experience, learn from and enjoy musical performance opportunities of the highest standards.
Providing young people with the opportunity to engage with, learn and perform traditional Scottish music and associated instruments.
Providing opportunities for young people to engage with professional musicians and performance through attending concerts, shows and the like (on Arran and beyond) and participating in workshops.
Working with the wider community to engage new audiences by encouraging their attendance at and participation in music rehearsal, concerts and community music making.
Why are you involved in Scottish music?
The Isle of Arran is steeped in Traditional Scottish Music and the charity was created in Nov 2017 to facilitate the demand that was evident for tuition of instruments on the island. In conjunction with the Fiddle Clun and Feis Arrain, we offered Pipes, Drums and Clarsach lessons for school students aged between 8 and 18 years old at no cost for families. Due to the wide geographical expanse of the island, we also arranged free transport to and from after school lessons for most of the students. We also work in close partnership with Isle of Arran Pipe Band and SSPDT. We currently have just over 100 students, that is 1/3 of eligible students involved with a Traditional instrument on the island!
Any particular career highlights?
From this year our highlights are:
* First performing and competing season for Schools' Pipe Band
*Performing at many community events and demand getting higher for more attendance next year.
*Marching side by side with Arran Pipe Band and other bands at Brodick Highland Games.
*More students gaining high SQA results in Traditional instruments.
*Students gaining Bronze Awards in Music Leadership by supporting new students learn a Traditional instrument.
*Full uniform being purchased for Schools' Pipe Band.
*Community concerts in June and September
What are your plans for the future?
• Expand Leaders in Music Leadership who can then achieve an extra SQA
• Support Piping students who are taking part in SSPDT Enterprise Award.
• Develop a Ceilidh Band rehearsal in conjunction with Fiddle Club.
• Continue to pursue local donations through performances.
• The continuation of bagpipes, snare drumming and clarsach tuition with possible expansion of one or more areas depending on funding to accommodate demand.
• Continuation to work in partnership with the SSPDT
• Continuation to work in partnership with the island schools and their Heads Teachers to deploy tuition and high quality musical experiences.
• Complete uniform through sponsorship.
Isle of Arran Music School Social Media
Website: https://arranmusicschool.org.uk/
Facebook: @arranmusicschool
Twitter: @arranmusschool
Instagram: @arranmusicschool
YouTube: @arranmusicschool
TikTok: @arranmusicschool
The 2022 MG ALBA Scots Trad Music Awards are back to normal on the 4th December 2022! You will be able to watch it live in person (buy a ticket here),Watch it live in the UK at 9pm (GMT) on BBC ALBA and and around the world here. Bands performing on Sunday 4th December include Elephant Sessions, Fara, Trip, Eryn Rae Trio, The Auldeners, Gordon Shand Scottish Dance Band, Irish Minstrels, Tayside Young Fiddlers, and a James Alexander Tribute.
If you would like to support Hands Up for Trad in their work with Scottish trad music and musicians why not become a friend of Hands Up for Trad. In addition to our high profile events like the Scots Trad Music Awards, we also deliver a less well known, education programme for young people from 8yrs right through to young adults at the start of their careers. Read more here.