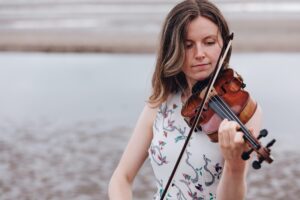 Congratulations to Isla Ratcliff who has been nominated in Up and Coming Artist of the Year sponsored by Royal Conservatoire of Scotland in the MG ALBA Scots Trad Music Awards 2022. Vote for Isla Ratcliff now!. It's going to be another great night at the MG ALBA Scots Trad Music Awards on Sunday 4th December in Dundee's Caird Hall. Why not join us for a brilliant night of music and awards. Buy a ticket here.
We asked Isla of Isla Ratcliff the following questions.
Tell us about yourself
I am a fiddle player, singer and composer based in Edinburgh. I released my debut album 'The Castalia' in November 2021, which is inspired by the 4 months that I spent in Cape Breton, Nova Scotia in 2019. I have interests in traditional cultures, cultural politics, the environment, and music's positive impact on our wellbeing. I received my musical education through the Suzuki Method, at the City of Edinburgh Music School (Broughton High School), at Oxford University, and then at the Royal Conservatoire of Scotland. As well as gigging, I teach Suzuki violin and fiddle – in schools, privately and at the Scots Music Group.
Why are you involved in Scottish music?
There's something homely about it. I love the community of the Scottish traditional music scene. I love the possibilities that traditional music offers for self-expression, creativity and friendship. It brings people together. I care about preserving the music, continuing the tradition and sharing it for many people to enjoy.
Any particular career highlights?
I was a Semi-Finalist in the BBC Young Traditional Musician of the Year 2022. This year, I really enjoyed doing a few tours with The Outside Track in the UK and Germany. I am very pleased to have received lots of lovely reviews for my album 'The Castalia' since its release in November 2021. I have performed at various festivals over the past few years, including Celtic Connections, Cambridge Folk Festival, Sidmouth FolkWeek, the Edinburgh Festival Fringe and the BBC Proms. Aged 13, I played a trad duet with Nicola Benedetti in Edinburgh's Usher Hall.
What are your plans for the future?
I have a gig at Celtic Connections in January 2023, and then I will be touring my album around Scotland in April 2023. I am currently working on a composition project where I am writing a tune for every Munro that I climb, which I hope to make into my next album soon. (I won't manage to fit all the tunes onto one album though!) I would love to make time to do more songwriting, I would like to do more work in theatre, and I'm always keen to collaborate with new musicians.
Isla Ratcliff Social Media
Website: https://islaratcliff.com
Facebook: @islaratcliffmusic
Twitter: @islaratcliff
Instagram: @islaratcliffmusic
YouTube: @islaratcliff (https://www.youtube.com/channel/UCjAz-z0djY-zH5Qk1s1Dgjg)
TikTok: @
The 2022 MG ALBA Scots Trad Music Awards are back to normal on the 4th December 2022! You will be able to watch it live in person (buy a ticket here),Watch it live in the UK at 9pm (GMT) on BBC ALBA and and around the world here. Bands performing on Sunday 4th December include Elephant Sessions, Fara, Trip, Eryn Rae Trio, The Auldeners, Gordon Shand Scottish Dance Band, Irish Minstrels, Tayside Young Fiddlers, and a James Alexander Tribute.
If you would like to support Hands Up for Trad in their work with Scottish trad music and musicians why not become a friend of Hands Up for Trad. In addition to our high profile events like the Scots Trad Music Awards, we also deliver a less well known, education programme for young people from 8yrs right through to young adults at the start of their careers. Read more here.