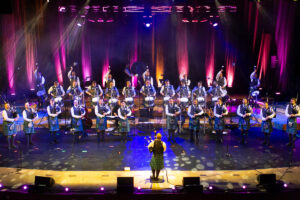 Congratulations to Inveraray & District Pipe Band who has been nominated in Scottish Pipe Band of the Year sponsored by The National Piping Centre in the MG ALBA Scots Trad Music Awards 2022. Vote for Inveraray & District Pipe Band now!. It's going to be another great night at the MG ALBA Scots Trad Music Awards on Sunday 4th December in Dundee's Caird Hall. Why not join us for a brilliant night of music and awards. Buy a ticket here.
We asked Gus of Inveraray & District Pipe Band the following questions.
Tell us about yourself
Formed by Pipe Major Stuart Liddell in 2005, the band started in the Novice Juvenile Grade and made rapid progress from Novice to Juvenile to Grade 2, winning the World Championships in each grade (Novice in 2007, Juvenile in 2008, Grade 2 in 2009) before being promoted to Grade 1 in 2010. From 2011 till 2013 they were very consistent, finishing in the prize list on most occasions. The highlight of 2013 however was their pre-Worlds "Ascension" concert in the Royal Concert Hall in Glasgow which sold out in record time. In 2014 they established themselves as one of the top Grade 1 bands by claiming their first major win at the European Championships held in Forres. Not content to rest on their laurels they have gone on to win 13 majors to date alongside multiple drumming championships. In 2017, after claiming second the previous three years, they achieved their ultimate goal, and the pinnacle of pipe band success by being crowned Grade 1 World Champions. A momentous occasion and one which solidified their place in the history books. They repeated this feat again in 2019 whilst also securing a fourth straight Champion of Champions title in the process.
Why are you involved in Scottish music?
To promote piping and drumming in Argyll when we started… and all over the World today!
Any particular career highlights?
World Pipe Band Champions
2007 – Novice Juvenile
2008 – Juvenile
2009 – Grade 2
2017 – Grade 1
2019 – Grade 1
Four times Grade 1 Champion of Champions
Sold out "Ascension" (2013) and "A Night in That Land" (2019) concerts at the Glasgow Royal Concert Hall
What are your plans for the future?
More of the same!
We are just about to release a new live double album of our 'A Night in That Land' concert, recorded last August in front of a packed Glasgow Royal Concert Hall.
Digital downloads are already available at https://idpb.bandcamp.com
We were accompanied by a great line-up of musicians for the night, including Ali Hutton, Aaron Jones, Craig Muirhead, James Lindsay, Murray Henderson, and Archie McAllister.
We would love to widen our scope by playing in more concerts and recitals!
Inveraray & District Pipe Band Social Media
Website: https://idpb.co.uk
Facebook: @inveraraypb
Twitter: @InverarayPB
Instagram: @inveraraypb
YouTube: @inveraraypipeband
TikTok: @
The 2022 MG ALBA Scots Trad Music Awards are back to normal on the 4th December 2022! You will be able to watch it live in person (buy a ticket here),Watch it live in the UK at 9pm (GMT) on BBC ALBA and and around the world here. Bands performing on Sunday 4th December include Elephant Sessions, Fara, Trip, Eryn Rae Trio, The Auldeners, Gordon Shand Scottish Dance Band, Irish Minstrels, Tayside Young Fiddlers, and a James Alexander Tribute.
If you would like to support Hands Up for Trad in their work with Scottish trad music and musicians why not become a friend of Hands Up for Trad. In addition to our high profile events like the Scots Trad Music Awards, we also deliver a less well known, education programme for young people from 8yrs right through to young adults at the start of their careers. Read more here.