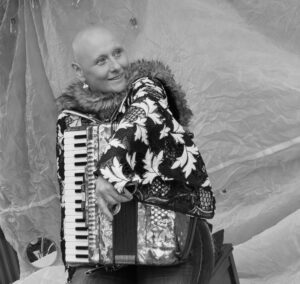 Congratulations to Inge Thomson who has been nominated in Music Producer of the Year in the MG ALBA Scots Trad Music Awards 2022. Vote for Inge Thomson now!. It's going to be another great night at the MG ALBA Scots Trad Music Awards on Sunday 4th December in Dundee's Caird Hall. Why not join us for a brilliant night of music and awards. Buy a ticket here.
We asked Inge of Inge Thomson the following questions.
Tell us about yourself
I have been a professional musician, composer, producer for 25 years. Much of my work over the past decade has been collaborative, affording new experiences and forming rich musical relationships. I produce albums for myself and other artists, write music for screen and radio and perform live in a variety of guises.
Why are you involved in Scottish music?
There's so much going on in Scotland today. The Trad/Folk scene is just the most supportive community of like minded people and there's space to explore and expand.
Any particular career highlights?
They are all highlights, I love my job! I love having the opportunity to travel with the music from singing in a carved out monastic cave in Armenia to playing in a far flung village hall in Skye – all amazing experiences. Singing karaoke with the KPT in a wee Welsh backwater pub is a hard one to beat though.
What are your plans for the future?
I'm producing some new work for HenHoose. I'm working on a Tectonics commission for their festival in 2023 and there are two new writing collaborations in the pipeline so plenty to do!
Inge Thomson Social Media
Website: http://www.ingethomson.com
Facebook: @
Twitter: @IngeThomson
Instagram: @
YouTube: @
TikTok: @
The 2022 MG ALBA Scots Trad Music Awards are back to normal on the 4th December 2022! You will be able to watch it live in person (buy a ticket here),Watch it live in the UK at 9pm (GMT) on BBC ALBA and and around the world here. Bands performing on Sunday 4th December include Elephant Sessions, Fara, Trip, Eryn Rae Trio, The Auldeners, Gordon Shand Scottish Dance Band, Irish Minstrels, Tayside Young Fiddlers, and a James Alexander Tribute.
If you would like to support Hands Up for Trad in their work with Scottish trad music and musicians why not become a friend of Hands Up for Trad. In addition to our high profile events like the Scots Trad Music Awards, we also deliver a less well known, education programme for young people from 8yrs right through to young adults at the start of their careers. Read more here.