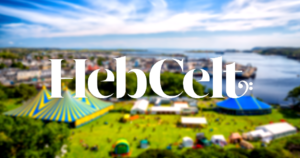 Congratulations to HebCelt Festival who has been nominated in Event of the Year sponsored by VisitScotland in the MG ALBA Scots Trad Music Awards 2022. Vote for HebCelt Festival now!. It's going to be another great night at the MG ALBA Scots Trad Music Awards on Sunday 4th December in Dundee's Caird Hall. Why not join us for a brilliant night of music and awards. Buy a ticket here.
We asked Graham of HebCelt Festival the following questions.
Tell us about yourself
The multi-award winning Hebridean Celtic Festival (HebCelt) has been a key feature in the cultural landscape of the Outer Hebrides since 1996.
This internationally renowned event has a unique setting in the Scottish Hebridean island of Lewis, the heartland of the Gaelic language and culture.
Its welcoming and friendly atmosphere reflects the ethos of the dedicated team of volunteers who have created a festival with global appeal and a strong community identity.
HebCelt passionately protects and promotes its heritage, including the vibrant Gaelic and traditional music that is both part of its history and its contemporary life. It mixes the best local talent with leading Scottish, UK and world artists and brings together household names and emerging talent to provide a feast of music to appeal to all ages.The result is a diverse blend of sights and sounds that is true to Celtic traditions but also welcoming to new ideas and influences.
HebCelt is a cultural phenomenon for its community, it offers a sense of homecoming to those islanders returning to meet family and friends and it extends a Hebridean hand of friendship to visitors who invariably come back for more.
Why are you involved in Scottish music?
Since 1996, Scottish music and especially the Celtic culture and Gaelic language of our home in the Outer Hebrides has remained at the very core of what HebCelt stands for. Welcoming our returning loyal local audience and friends from around the world each year the team behind HebCelt are proud to present the music and culture of our home on the international stage to an eager and attentive audience.
Any particular career highlights?
2022 saw HebCelt celebrate its 25th anniversary whilst achieving record-breaking attendances of over 18,500. Festival goers from as far afield as Canada, Australia and New Zealand helped to bring a £4.2 million boost to the Lewis economy.
What are your plans for the future?
The HebCelt team plan to deliver their 26th live event across 12th-15th July 2023 as they continue to bounce back from the global pandemic. Their sights are set firmly on matching, if not bettering the successes of their record-breaking 25th-anniversary celebrations. We can't wait to welcome everyone back to Stornoway next year!
HebCelt Festival Social Media
Website: https://www.hebceltfest.com
Facebook: @HebCelt
Twitter: @HebCelt
Instagram: @hebcelt
YouTube: @hebceltfest
TikTok: @
The 2022 MG ALBA Scots Trad Music Awards are back to normal on the 4th December 2022! You will be able to watch it live in person (buy a ticket here),Watch it live in the UK at 9pm (GMT) on BBC ALBA and and around the world here. Bands performing on Sunday 4th December include Elephant Sessions, Fara, Trip, Eryn Rae Trio, The Auldeners, Gordon Shand Scottish Dance Band, Irish Minstrels, Tayside Young Fiddlers, and a James Alexander Tribute.
If you would like to support Hands Up for Trad in their work with Scottish trad music and musicians why not become a friend of Hands Up for Trad. In addition to our high profile events like the Scots Trad Music Awards, we also deliver a less well known, education programme for young people from 8yrs right through to young adults at the start of their careers. Read more here.