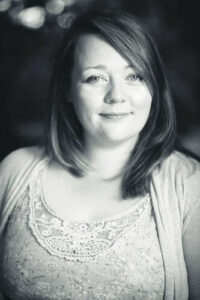 Congratulations to Heather Downie who has been nominated in Music Tutor of the Year Award sponsored by Creative Scotland's Youth Music Initiative in the MG ALBA Scots Trad Music Awards 2022. Vote for Heather Downie now!. It's going to be another great night at the MG ALBA Scots Trad Music Awards on Sunday 4th December in Dundee's Caird Hall. Why not join us for a brilliant night of music and awards. Buy a ticket here.
We asked Heather of Heather Downie the following questions.
Tell us about yourself
Hi! I'm Heather, I'm a harpist and singer with a big passion for teaching and learning!
I've been teaching for over 20 years now and I'm the Principal Scottish Harp Tutor at the Royal Conservatoire of Scotland. I've recorded albums and performed all over the world…..but I discovered early in my career that teaching is my passion. It brings me so much joy and fulfilment, and it is at the centre of my career as a musician. I love it so much!!
Looking to reach as many harpists as possible, I launched my online school in 2016.
I want to help as many people as possible become a better harpists, not simply teach tunes – but really teach the how and why. I strive to help harpists learn in new, exciting and successful ways. I want help everyone develop better technique and sound production, so everything they play sounds fantastic. I teach understanding harmony, so students feel confident about coming up with chords and arrangements. And, for our Scottish music, sharing the context and history of the music so that everyone can enjoy it on a deeper emotional level.
But most of all I want all my students to feel confident and happy in themselves and their harping. This is the key. If you feel happy and positive about your harp journey you will play more and more…..and if you play more and more you will become the best harpist you can be!!
Qualifications –
First Class (Hons) BA in Scottish Music from Royal Conservatoire of Scotland
Postgraduate Diploma (with distinction) in Scottish Music Performance from Royal Conservatoire of Scotland
Why are you involved in Scottish music?
I was first introduced to Scottish music in Primary school when Martyn Bennett came and worked with our class on a project celebrating 100 year anniversary of the battle of Stirling bridge. I was given a penny whistle and three notes to play as part of the big class composition we created with Martyn's guidance.
It wasn't till many years later I was able to find my instrument – Scottish harp – but it was that experience which got me hooked on Scottish music.
Any particular career highlights?
I have enjoyed so many fantastic moments with amazing people over the years, I feel really privileged as I reflect with this question.
I think this year has been a very cool year in that I was appointed Principal Scottish harp tutor and the Royal Conservatoire of Scotland. I was also invited to give a lecture on teaching and perform at the World Harp Congress earlier this year, which was a great honour.
Really anytime you see a student conquering something, that is what it is all about. Whether that be my masters university student acing their final exam (also happened this year), or my little 7 year old plucking out twinkle twinkle for the first time and the look of sheer delight on their face.
What are your plans for the future?
I'm currently completing a Masters in Education in Learning and Teaching the Arts, so first and foremost would be finish this course! I hope to continue to develop my teaching skills and better understand how we all learn to help me support my students further.
I am launching a brand new online membership in 2023 called How To Harp which is very exciting!
Right now I am in the midst of my annual project 'The Christmas Harp Collaboration' which brings together a virtual harp ensemble playing a Christmas piece. There are 386 harpists taking part this year so it is a really fantastic project.
The final performance of this project will be released on December 5th – so by the time the Scots Trad Awards Ceremony comes around everything will be finished and ready!
Heather Downie Social Media
Website: https://www.heatherdownie.co.uk
Facebook: @heatherdownieharpist
Twitter: @
Instagram: @heatherdownieharpist
YouTube: @heatherdownieharpist
TikTok: @
The 2022 MG ALBA Scots Trad Music Awards are back to normal on the 4th December 2022! You will be able to watch it live in person (buy a ticket here),Watch it live in the UK at 9pm (GMT) on BBC ALBA and and around the world here. Bands performing on Sunday 4th December include Elephant Sessions, Fara, Trip, Eryn Rae Trio, The Auldeners, Gordon Shand Scottish Dance Band, Irish Minstrels, Tayside Young Fiddlers, and a James Alexander Tribute.
If you would like to support Hands Up for Trad in their work with Scottish trad music and musicians why not become a friend of Hands Up for Trad. In addition to our high profile events like the Scots Trad Music Awards, we also deliver a less well known, education programme for young people from 8yrs right through to young adults at the start of their careers. Read more here.