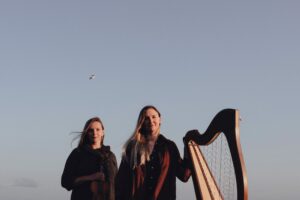 Congratulations to Heal & Harrow (Rachel Newton and Lauren MacColl) who has been nominated in Composer of the Year sponsored by PRS for Music in the MG ALBA Scots Trad Music Awards 2022. Vote for Heal & Harrow (Rachel Newton and Lauren MacColl) now!. It's going to be another great night at the MG ALBA Scots Trad Music Awards on Sunday 4th December in Dundee's Caird Hall. Why not join us for a brilliant night of music and awards. Buy a ticket here.
We asked Rachel of Heal & Harrow (Rachel Newton and Lauren MacColl) the following questions.
Tell us about yourself
The 16th and 17th Century Scottish Witch Trials were one of the darkest periods of Scotland's history. An estimated 2500 people were executed, 80% of which were thought to have been women. In this project, Rachel Newton and Lauren MacColl pay a humanising tribute to these women while also exploring historical beliefs in the supernatural and modern day parallels in our society. Each piece of music is based on specially commissioned works by celebrated author Mairi Kidd – tales inspired by and in remembrance of real women who were persecuted and tried as witches, and characters from the folkloric tales and mythology enshrined in our oral culture.
Rachel (The Shee, The Furrow Collective, Spell Songs) and Lauren (Salt House, Rant) are firmly established as two of the country's most celebrated folk musicians. They have collaborated on each other's projects for many years, and this project is a perfect and timely opportunity to work together as a duo for the first time. Their live performance features newly composed music with accompanying visuals by Alison Piper to highlight this fascinating and important subject.
​
The album 'Heal & Harrow' is out now, released on 4th Feb 2022
​
Why are you involved in Scottish music?
We met as children at Fèis Rois. The Fèis was an integral part of our early musical experience and we are both very grateful for the opportunities we've enjoyed over the years that have come from our involvement in it.
Any particular career highlights?
We've recently completed a Scottish tour, which was very poignant for us as we took our live show to some of the places where the stories our music is based on actually took place. It was very special to connect with audiences around the country and share this part of our collective history.
We were delighted that Màiri Kidd, who we commissioned to write the stories, recently published a book 'We are All Witches' featuring the stories she wrote for Heal & Harrow and much more besides. It has been amazing to work with Màiri and also with Alison Piper, who made a beautiful film to accompany our live show.
What are your plans for the future?
We are planning to release a podcast series in 2023 that will include Màiri's stories read by ten brilliant women from across Scotland alongside some discussion of the topics raised and music from us. We have a few performances lined up for next year already and look forward to bringing our live show to new audiences.
Heal & Harrow (Rachel Newton and Lauren MacColl) Social Media
Website: https://www.healandharrow.com
Facebook: @Healandharrow
Twitter: @healandharrow
Instagram: @healandharrow
YouTube: @
TikTok: @
The 2022 MG ALBA Scots Trad Music Awards are back to normal on the 4th December 2022! You will be able to watch it live in person (buy a ticket here),Watch it live in the UK at 9pm (GMT) on BBC ALBA and and around the world here. Bands performing on Sunday 4th December include Elephant Sessions, Fara, Trip, Eryn Rae Trio, The Auldeners, Gordon Shand Scottish Dance Band, Irish Minstrels, Tayside Young Fiddlers, and a James Alexander Tribute.
If you would like to support Hands Up for Trad in their work with Scottish trad music and musicians why not become a friend of Hands Up for Trad. In addition to our high profile events like the Scots Trad Music Awards, we also deliver a less well known, education programme for young people from 8yrs right through to young adults at the start of their careers. Read more here.