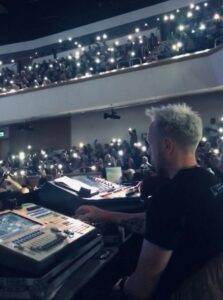 Congratulations to Greig Shankland (Trad Lampy) who has been nominated in Lighting Designer of the Year in the MG ALBA Scots Trad Music Awards 2022. Vote for Greig Shankland (Trad Lampy) now!. It's going to be another great night at the MG ALBA Scots Trad Music Awards on Sunday 4th December in Dundee's Caird Hall. Why not join us for a brilliant night of music and awards. Buy a ticket here.
We asked Greig of Greig Shankland (Trad Lampy) the following questions.
Tell us about yourself
I am honoured to have been nominated as LD of the year at this years Trad Music Awards. I have worked in the entertainment industry in Scotland for over 20 years, starting out as a multi disciplined technician in sound, lighting and projection. For the most part I have specialised in lighting for both live events and screen, and have toured and worked with some of Scotlands premier acts. I have been LD for Skerryvore since 2010, and have previously enjoyed touring and lighting other popular Scottish acts such as Talisk, Tide Lines, Skippinish and Rura to name a few. I have also been LD for Celtic Connections shows in Glasgows Old Fruitmarket for a number of years and for the last 3 in the Glasgow Royal Concert Hall. I am also the festival LD for Tiree Music Festival and Oban Live music festival which spun off of Skerryvores Decade celebrations in Oban.
Why are you involved in Scottish music?
Scottish music to me has always been a passion. From the age of 3 my parents had to drag me away from the pipe bands playing at the local gala days, and from the same age gave me my first chanter, later leading me to join the local pipe band in the mid nineties. I got the tech bug though and my interests shifted to be on the other end of the multicores so it was inevitable that my passion for Scottish music would lead me to a career in it. Dubbing myself the 'Trad Lampy' later in my career, realising the Scottish music scene is the best scene to pigeon hole myself.
Any particular career highlights?
Particular highlights for lighting (apart from right now and being nominated for this award) would be Oban Live 2019. With a sold out Mossfield Stadium, an excellent rig, and some incredible Scottish musicians it's a gig that I will always remember, particularly when Oban High School pipe band joined Skerryvore on stage. Hair raising stuff.
Another career highlight was when I was asked to light the final scene of 'Wild Rose' starring Jessie Buckley and Julie Walters. The scene was based around a Celtic Connections show at Glasgows Old Fruitmarket, and it was by pure chance that I was in the venue that day as venue rep when the films gaffer showed me a picture of what they were looking to create and it was my design from Celtic Connections the previous year. Hired on the spot.
Lighting Tide Lines at the Barrowlands 2019 was another career highlight, the gig was also voted as one of the top 10 gigs in the venue for that year and it really was deserving of that. Such an electrifying atmosphere, a great set from the band and a privilege to have lit.
What are your plans for the future?
My plans are to just keep doing what I love and see where the roads take me. As we begin to see things settle out post pandemic it's incredible to see how all the acts I have worked with have come through it, and how new acts have formed as a result. I look forward to working with them all, old and new and to continue to play my own small part in the best industry in the world.
Greig Shankland (Trad Lampy) Social Media
Website:
Facebook: @
Twitter: @
Instagram: @thetradlampy
YouTube: @
TikTok: @
The 2022 MG ALBA Scots Trad Music Awards are back to normal on the 4th December 2022! You will be able to watch it live in person (buy a ticket here),Watch it live in the UK at 9pm (GMT) on BBC ALBA and and around the world here. Bands performing on Sunday 4th December include Elephant Sessions, Fara, Trip, Eryn Rae Trio, The Auldeners, Gordon Shand Scottish Dance Band, Irish Minstrels, Tayside Young Fiddlers, and a James Alexander Tribute.
If you would like to support Hands Up for Trad in their work with Scottish trad music and musicians why not become a friend of Hands Up for Trad. In addition to our high profile events like the Scots Trad Music Awards, we also deliver a less well known, education programme for young people from 8yrs right through to young adults at the start of their careers. Read more here.