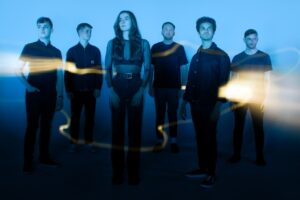 Congratulations to DLÙ who has been nominated in Trad Video of the Year in the MG ALBA Scots Trad Music Awards 2022. Vote for DLÙ now!. It's going to be another great night at the MG ALBA Scots Trad Music Awards on Sunday 4th December in Dundee's Caird Hall. Why not join us for a brilliant night of music and awards. Buy a ticket here.
We asked Zach of DLÙ the following questions.
Tell us about yourself
Winners of the Danny Kyle Open Stage 2018, DLÙ are a trad fusion band from Glasgow. Comprising of Moilidh NicGriogair, Zach Ronan, Aidan Spiers, Andrew Grossart, Seoras Chlad and guest vocalist Joseph McCluskey, their eclectic musical backgrounds influence their original melodies and arrangements, giving the band their own distinctive sound.
Their name derives from the Gaelic word 'dlùth', meaning tight-knit and close, a tribute not only to the friendship between members but also to the band's origins which lie in the Glasgow Gaelic School.
DLÙ released their debut album 'Moch' in February 2022 at the Òran Mòr, Glasgow. Their album has widely recognised with international radio plays and reviews.
☆☆☆☆ RnR Mag – "An impressive debut from a band that seem destined to become major contributors to the evolution of Gaelic music."
Folk Radio, UK – "It may only be February, but with MOCH, DLÙ might already be strong contenders for one of the debut albums of the year…"
THE SCOTSMAN – "Scots Gaelic culture in folk music is already strong, but DLÙ represent a new generation"
Why are you involved in Scottish music?
As Gaelic speakers, we feel passionately about keeping their culture alive by writing music that appeals not only to members of the Gaelic speaking community but to those who have never heard Scottish Traditional music or contemporary Scottish music before.
Any particular career highlights?
Playing to thousands at Stirling Castle in 2019 for their annual Hogmanay celebrations was a brilliant night. And of course our debut album launch in the Òran Mór this year was really special – the crowd and the atmosphere were fantastic!
What are your plans for the future?
National and international touring and writing more music.
DLÙ Social Media
Website: https://apexmusicinternational.com/artist-profile/dlu/
Facebook: @dluband
Twitter: @
Instagram: @dluband
YouTube: @dluband
TikTok: @dluband
The 2022 MG ALBA Scots Trad Music Awards are back to normal on the 4th December 2022! You will be able to watch it live in person (buy a ticket here),Watch it live in the UK at 9pm (GMT) on BBC ALBA and and around the world here. Bands performing on Sunday 4th December include Elephant Sessions, Fara, Trip, Eryn Rae Trio, The Auldeners, Gordon Shand Scottish Dance Band, Irish Minstrels, Tayside Young Fiddlers, and a James Alexander Tribute.
If you would like to support Hands Up for Trad in their work with Scottish trad music and musicians why not become a friend of Hands Up for Trad. In addition to our high profile events like the Scots Trad Music Awards, we also deliver a less well known, education programme for young people from 8yrs right through to young adults at the start of their careers. Read more here.