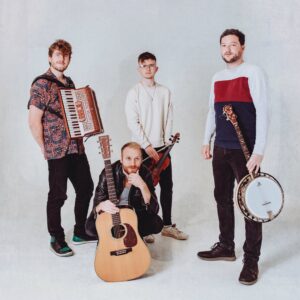 Congratulations to Dallahan who has been nominated in Folk Band of the Year sponsored by Threads of Sound in the MG ALBA Scots Trad Music Awards 2022. Vote for Dallahan now!. It's going to be another great night at the MG ALBA Scots Trad Music Awards on Sunday 4th December in Dundee's Caird Hall. Why not join us for a brilliant night of music and awards. Buy a ticket here.
We asked Jack of Dallahan the following questions.
Tell us about yourself
"Dallahan is one of the most distinct forces in the international folk music scene. Forged in Scotland and Ireland's traditional music community, but drawing on the traditional music styles of the Balkans and North America, they create an original and seamless musical montage, blending their contemporary influences from jazz, funk, and pop music. Dallahan take their listeners on a journey, traversing styles and countries of the world in a dazzling live show, creating their own unique brand of World-folk delivered with stunning virtuosity. The lineup consists of Jack Badcock on guitar and vocals, Ciaran Ryan on banjo, mandolin and fiddle, Andrew Waite on accordion and Benedict Morris on fiddle. Following the release of their debut album 'When The Day Is On The Turn' in 2014, which was highly praised by audiences and critics alike, described by fRoots magazine as "the most exciting Irish music I've heard in a long time…Lunasa for the new generation" ­the band toured extensively in North America and Europe, establishing themselves internationally as one of the most enthralling live shows, captivating audiences at such prestigious international events as Milwaukee Irish Fest, Celtic Connections, Tonder Festival and countless others. In 2015, the band was nominated for 'Folk Band of The Year' and their debut album shortlisted for 'Album of the Year' at the Scots Trad Music Awards.The following year, 2016 saw the Dallahan's continued ascent with the release of their second album, 'Matter Of Time', and a most intensely busy touring schedule, playing 103 gigs across 7 countries, including travelling to Kathmandu, Nepal to on behalf of the British Council to perform at the British/Nepalese bicentenary celebrations. In 2016 their second album was shortlisted for 'Album of the Year' at the Scots Trad Music Awards and they were awarded 'Instrumental Cut of The Year' at the LiveIreland Awards 2016 (USA). Their touring history has included such onstage collaborations as with songwriting legend Dougie MacLean, a commissioned composition and collaboration with the Royal Scottish National Orchestra at a WWI commemorative concert and also a concert in Kathmandu with Nepal's folk music exponents, Kutumba. 2019 sees the release of the bands third album, their label debut with Westpark Records; "Smallworld", with songs that explore themes ranging from unrequited love, famine, racial inequality and big birds and instrumentals that transcend from traditional Irish tunes to Roma Gypsy melodies to genre-defying originals."
Why are you involved in Scottish music?
We have all grown up around traditional music from Scotland and Ireland and the original members of the band came together in Sandy Bells, Edinburgh.
Any particular career highlights?
Our various US and European tours throughout our career have been our happiest times, bringing our music to the world and making new friends all over the world in the process. Two standout moments were travelling to Kathmandu on behalf of the British Council to collaborate and perform with Nepalese band Kutumba and also collaborating and performing with the Royal Scottish National Orchestra on an original composition honouring the Battle of Loos.
What are your plans for the future?
We are in the middle of making our fourth album which will be released in Spring 2023. We will be returning to Celtic Connections in 2023 as well as touring in Ireland, the UK, China and Germany. Beyond that we plan to keep growing and touring in Europe and the rest of the world.
Dallahan Social Media
Website: https://www.dallahanmusic.com
Facebook: @dallahanmusic
Twitter: @dallahanmusic
Instagram: @dallahanmusic
YouTube: https://www.youtube.com/channel/UC4T0d7MoVm3W_U7UXYHr6-g
TikTok: @dallahanmusic
The 2022 MG ALBA Scots Trad Music Awards are back to normal on the 4th December 2022! You will be able to watch it live in person (buy a ticket here),Watch it live in the UK at 9pm (GMT) on BBC ALBA and and around the world here. Bands performing on Sunday 4th December include Elephant Sessions, Fara, Trip, Eryn Rae Trio, The Auldeners, Gordon Shand Scottish Dance Band, Irish Minstrels, Tayside Young Fiddlers, and a James Alexander Tribute.
If you would like to support Hands Up for Trad in their work with Scottish trad music and musicians why not become a friend of Hands Up for Trad. In addition to our high profile events like the Scots Trad Music Awards, we also deliver a less well known, education programme for young people from 8yrs right through to young adults at the start of their careers. Read more here.