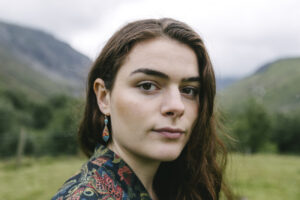 Congratulations to Brighde Chaimbeul who has been nominated in Musician of the Year sponsored by The University of the Highlands and Islands in the MG ALBA Scots Trad Music Awards 2022. Vote for Brighde Chaimbeul now!. It's going to be another great night at the MG ALBA Scots Trad Music Awards on Sunday 4th December in Dundee's Caird Hall. Why not join us for a brilliant night of music and awards. Buy a ticket here.
We asked Brighde of Brighde Chaimbeul the following questions.
Tell us about yourself
Winner of the BBC Radio 2 Horizon Award and the BBC Radio 2 Young Folk Award, Scotland's Brighde Chaimbeul has established herself among the leading experimental purveyors of celtic music.
A native gaelic speaker from the Isle of Skye her style is rooted in her native language and culture but takes inspiration from a variety of global traditions.
Brighde plays the Scottish smallpipes, a bellows-powered set of bagpipes with a double-note drone. She has devised a completely unique way of arranging for pipe music that emphasises the rich textural drones of the instrument; the constancy of sound that creates a trance-like atmosphere. In 2021 Brighde performed on the smallpipes to world leaders and listeners across the globe, as the musician of the opening ceremony of COP 26.
Her 2019 debut album, The Reeling, won her major media plaudits and five-star reviews (including Songlines and The Quietus albums of the year, and The Guardian folk album of the month) for its fresh reading of traditional gaelic tunes and outward looking assimilation of influences, played with and enticing virtuosic liquidity.
Brìghde's pipes are made by renowned makers Fin Moore and Hamish Moore and has most recently released the first ever double C smallpipes record with Ross Ainslie.
Why are you involved in Scottish music?
Music, Scottish music and Gaelic has been in my life probably since I was born, thank you to my family and the amazing musicians and teachers in Sleat, Isle of Skye.
Any particular career highlights?
A main highlight includes the people I have been lucky to collaborate with recently, Colin Stetson, Ross Ainslie, Julie Fowlis, Radie Peat, Aidan O'Rourke, Martin Green, Carlos Nunez, Tiarnan O Duinchinn, Fin Moore, Louise Mulcahy
What are your plans for the future?
I'm very excited to release my second solo album in 2023.
Brighde Chaimbeul Social Media
Website: http://www.brichaimbeul.com
Facebook: @brichaimbeul
Twitter: @brichaimbeul
Instagram: @brichaimbeul
YouTube: @
TikTok: @
The 2022 MG ALBA Scots Trad Music Awards are back to normal on the 4th December 2022! You will be able to watch it live in person (buy a ticket here),Watch it live in the UK at 9pm (GMT) on BBC ALBA and and around the world here. Bands performing on Sunday 4th December include Elephant Sessions, Fara, Trip, Eryn Rae Trio, The Auldeners, Gordon Shand Scottish Dance Band, Irish Minstrels, Tayside Young Fiddlers, and a James Alexander Tribute.
If you would like to support Hands Up for Trad in their work with Scottish trad music and musicians why not become a friend of Hands Up for Trad. In addition to our high profile events like the Scots Trad Music Awards, we also deliver a less well known, education programme for young people from 8yrs right through to young adults at the start of their careers. Read more here.