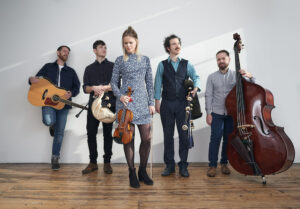 Congratulations to Breabach who has been nominated in Folk Band of the Year sponsored by Threads of Sound in the MG ALBA Scots Trad Music Awards 2022. Vote for Breabach now!. It's going to be another great night at the MG ALBA Scots Trad Music Awards on Sunday 4th December in Dundee's Caird Hall. Why not join us for a brilliant night of music and awards. Buy a ticket here.
We asked Ewan of Breabach the following questions.
Tell us about yourself
We are a 5 piece acoustic folk group based in Glasgow. Our career was really kicked off by winning a Danny Kyle Open Stage Award in 2005 and since then we have had a fantastic time touring, recording and sharing our music with lots of people! We play a variety of instruments including pipes, whistles, fiddle, guitar, double bass and we sing too. We really enjoy writing new music but we also love working with traditional material and taking it on a new journey!
Why are you involved in Scottish music?
Because we love it! We feel grateful to be part of such a creative and exciting scene and we love meeting people (audiences and other artists) and sharing our music with them.
Any particular career highlights?
Thats a difficult one to answer because each performance and tour is a unique experience and can create their own special memories. Collaboration has certainly played a big part in our journey and has helped shape our music and performances. The 'Boomerang Project' in 2014 was a very powerful experience which saw us work with indigenous artists from Nz and Australia performing at Womad Nz, the Syndey Opera House before returning to Scotland to play Glasgow Green for the Commonwealth Games. Most recently we collaborated with the fantastic animator Cat Bruce to create 'Dusgadh' a short film with an original musical score written by the 5 of us.
What are your plans for the future?
To continue challenging ourselves, enjoying ourselves and to keep our audiences engaged and entertained!
Breabach Social Media
Website: https://www.breabach.com
Facebook: @breabach
Twitter: @breabach
Instagram: @breabach
YouTube: @
TikTok: @
The 2022 MG ALBA Scots Trad Music Awards are back to normal on the 4th December 2022! You will be able to watch it live in person (buy a ticket here),Watch it live in the UK at 9pm (GMT) on BBC ALBA and and around the world here. Bands performing on Sunday 4th December include Elephant Sessions, Fara, Trip, Eryn Rae Trio, The Auldeners, Gordon Shand Scottish Dance Band, Irish Minstrels, Tayside Young Fiddlers, and a James Alexander Tribute.
If you would like to support Hands Up for Trad in their work with Scottish trad music and musicians why not become a friend of Hands Up for Trad. In addition to our high profile events like the Scots Trad Music Awards, we also deliver a less well known, education programme for young people from 8yrs right through to young adults at the start of their careers. Read more here.