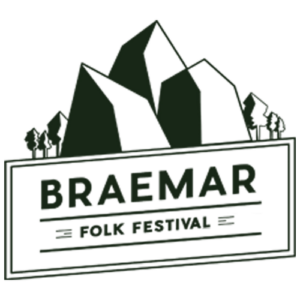 Congratulations to Braemar Folk Festival who has been nominated in Event of the Year sponsored by VisitScotland in the MG ALBA Scots Trad Music Awards 2022. Vote for Braemar Folk Festival now!. It's going to be another great night at the MG ALBA Scots Trad Music Awards on Sunday 4th December in Dundee's Caird Hall. Why not join us for a brilliant night of music and awards. Buy a ticket here.
We asked Fergus of Braemar Folk Festival the following questions.
Tell us about yourself
The Braemar Folk Festival was a lockdown brainwave — to bottle the magic of our beautiful village in the heart of the Cairngorms, pack out every space in the community with music, celebrate the very best of folk and trad talent old and new, while audiences cosied themselves in the warm glow of creativity and friendship, shuttered away from the October wind and rain.
In our first year we happened upon a winning formula, billing time-served legends like Peggy Seeger alongside neo-trad tearaways Project Smok.
Back even bigger for 2022, we were enchanted by Dougie MacLean, dazzled by McGoldrick, McCusker and Doyle, blown away by rising stars Eryn Rae and Michael Biggins and bewitched by the voice of Joshua Burnside.
From breakfast time until the wee small hours, there were workshops, sessions in the pubs, tunes in every neuk, an album launch from local fiddler Ellie McLaren, drams of Royal Lochnagar whisky aplenty and a crackling fire and warm welcome guaranteed.
Braemar is steeped in musical heritage: Gaelic and Scots, pipes and fiddles, the places, the stories, its people and those who visit once and long to return again and again.
St Margaret's Braemar provides the mainstage for our special autumn folk festival — one of Scotland's most important buildings, saved from the brink and now living and breathing again, packed to rafters with sell-out audiences and great music.
Why are you involved in Scottish music?
St Margaret's is a unique performance, arts and heritage venue in Braemar, Scotland. Breathing new life into this beautiful historic building has been a decade's work for a loyal team of trustees and volunteers — transforming St Margaret's from a neglected church into a vibrant arts and community space.

While Braemar has drawn tourists from far and wide during the summer months since Queen Victoria fell in love with Royal Deeside in 1848, our ambition is to create a year-round cultural hub with a diverse programme which draws in audiences through the traditional 'shoulder months'.
St Margaret's now supports a diverse range of Scottish music throughout the year, with a particular focus on trad and folk artists. This past year we have enjoyed concerts from Duncan Chisholm, Old Blind Dogs, Hamish Napier, Breabach, Chris Stout and Catriona McKay, Verlon Thompson, Fergus McCreadie, Jack Badcock, Gnoss, Iona Fyfe and many more.
Braemar Folk Festival has become the focal point in our annual programme of Scottish, trad and folk music — celebrating home-grown talent, new voices and pan-celtic connections.
Why are we involved? Because we love Scottish music!
Any particular career highlights?
Dougie MacLean, still at the height of his powers at 68 years old, meeting 8-week-old superfan Maisie Reynolds at her first ever gig during this year's Braemar Folk Festival was pretty special. Proof, if it were needed, that this is a real family festival!
What are your plans for the future?
More great music, discovering new talent, giving more young people in the local community opportunities to experience the joy of trad music and trying to create an inclusive, sustainable and environmentally conscious music festival.
This year we partnered with local conservation charity the River Dee Trust to highlight the impact of climate change right here on our doorstep in the Cairngorms National Park. The plight of our environment and our world is the biggest challenge of our times. Through music, we can amplify that message and that is an element we really want to see grow in future years.
Braemar Folk Festival Social Media
Website: https://www.braemarfolkfestival.com
Facebook: @BraemarFolkFestival
Twitter: @StMegsBraemar
Instagram: @BraemarFolkFestival
YouTube: https://www.youtube.com/channel/UCA372B9xKW8Cn0wGkPXaQzw/videos@
TikTok: @
The 2022 MG ALBA Scots Trad Music Awards are back to normal on the 4th December 2022! You will be able to watch it live in person (buy a ticket here),Watch it live in the UK at 9pm (GMT) on BBC ALBA and and around the world here. Bands performing on Sunday 4th December include Elephant Sessions, Fara, Trip, Eryn Rae Trio, The Auldeners, Gordon Shand Scottish Dance Band, Irish Minstrels, Tayside Young Fiddlers, and a James Alexander Tribute.
If you would like to support Hands Up for Trad in their work with Scottish trad music and musicians why not become a friend of Hands Up for Trad. In addition to our high profile events like the Scots Trad Music Awards, we also deliver a less well known, education programme for young people from 8yrs right through to young adults at the start of their careers. Read more here.