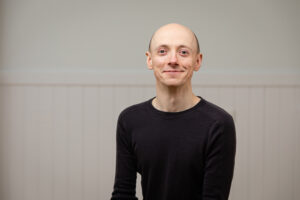 Congratulations to Barry Reid (Rose Croft Studio) who has been nominated in Studio Engineer of the Year in the MG ALBA Scots Trad Music Awards 2022. Vote for Barry Reid (Rose Croft Studio) now!. It's going to be another great night at the MG ALBA Scots Trad Music Awards on Sunday 4th December in Dundee's Caird Hall. Why not join us for a brilliant night of music and awards. Buy a ticket here.
We asked Barry of Barry Reid (Rose Croft Studio) the following questions.
Tell us about yourself
I am a freelance studio engineer and producer based at my home studio 'Rose Croft Studio' in the Highlands but also regularly use various fantastic studios throughout Scotland, including Glo-Worm Recording, Gorbals Sound and Watercolour Studios. From starting out as a musician with the band Croft No.Five, I quickly became involved in the recording of the bands I played in and went on to develop my skills at La Chunky studio in Glasgow. Since then I've built a great reputation and an excellent discography of records with some of the best musicians in Scotland.
Why are you involved in Scottish music?
I grew up surrounded by the Fèisean movement in the Highlands and so I learnt to play trad music on the guitar, which led to starting a band with my school mates and subsequently becoming involved in the Scottish music scene. Although many styles of music have inspired me over the years, my roots have always been firmly imbedded in Scottish music. I feel proud to be a part of the Scottish music scene and to play a part in 'archiving' it's music by making records.
Any particular career highlights?
One particular highlight would have to be recording Shooglenifty's latest album 'Acid Croft Vol.9'. The band's debut album 'Venus in Tweeds' was a huge inspiration to me when I was getting into music and it was my introduction to what could be done when combining acoustic and electric instruments. So to be recording the band around twenty four years after hearing them for the first time was incredible.
Over the years I've engineered and produced many records with musicians and also written and recorded as a musician with a number of bands too… but never have I released my own record. However in 2021, I finally got the chance to make my very own debut album 'Breathing Space', written and recorded at Rose Croft Studio. The album is a collection of newly composed tunes, mixed with electronic sounds, beats and recorded soundscapes from my local rural landscape. This has been a long time goal for me and so to finally achieve this is a real career highlight.
What are your plans for the future?
My plan is to continue recording great music with musicians, not only in nice studios around Scotland, but also in non studio spaces, using my mobile recording rig and making records in inspiring places.
I would also love to expand Rose Croft Studio at some point to a larger space in the Inverness area and provide a creative recording enviroment for musicians to come and record in.
Barry Reid (Rose Croft Studio) Social Media
Website: https://www.spad.org.uk
Facebook: @BarryReidMusic
Twitter: @BarryReidMusic
Instagram: @RoseCroftStudio
YouTube: @
TikTok: @
The 2022 MG ALBA Scots Trad Music Awards are back to normal on the 4th December 2022! You will be able to watch it live in person (buy a ticket here),Watch it live in the UK at 9pm (GMT) on BBC ALBA and and around the world here. Bands performing on Sunday 4th December include Elephant Sessions, Fara, Trip, Eryn Rae Trio, The Auldeners, Gordon Shand Scottish Dance Band, Irish Minstrels, Tayside Young Fiddlers, and a James Alexander Tribute.
If you would like to support Hands Up for Trad in their work with Scottish trad music and musicians why not become a friend of Hands Up for Trad. In addition to our high profile events like the Scots Trad Music Awards, we also deliver a less well known, education programme for young people from 8yrs right through to young adults at the start of their careers. Read more here.