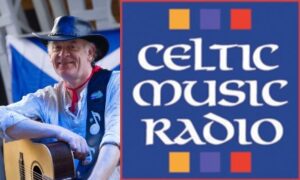 Congratulations to Ballads & Balladeers Celtic Music Radio who has been nominated in Trad Music in the Media sponsored by Skipinnish in the MG ALBA Scots Trad Music Awards 2022. Vote for Ballads & Balladeers Celtic Music Radio now!. It's going to be another great night at the MG ALBA Scots Trad Music Awards on Sunday 4th December in Dundee's Caird Hall. Why not join us for a brilliant night of music and awards. Buy a ticket here.
We asked Gavin of Ballads & Balladeers Celtic Music Radio the following questions.
Tell us about yourself
Long an admirer of Liam Clancy and the extended Clancy/Makem families, Gavin has been involved in every Clancy Brothers Festival since it started in 2008, as musician and on-call historian to the Clancy Family. This close connection lead to a rather unique recording project. After making a very simple album of Clancy/Makem songs to sell at his festival gigs, Gavin decided to use his instrumental skills and went back to the studio where he spent weeks overdubbing everything from drums to Hammond Organ. The album was self-issued at the end of 2016.
To promote his "CMR Album Of The Week", he came into the studio to be interviewed by both Gordon Hotchkiss and Ross McFadyen. It didn't take long to realise that his encyclopedic musical knowledge and absolutely massive record collection had found a natural home at CMR. He started broadcasting Ballads & Balladeers in March 2017 and as a reward for the success of that show, a few months later, was given a Sunday night spot where he could play "Whatever" he liked.
Gavin curates four hours of radio for CMR every week. Both are in-depth, knowledgable and very opinionated shows and that's the way he likes it.
"Ballads and Balladeers" focusses on what he calls "the first generation of vinyl folkies" (roughly 1960 to 1990) while "Whatever" is a theme-based show that changes every week and is aimed at the listener with more than just a casual love for music. You have to tune in to find out what the theme is, and hopefully stick around.
Why are you involved in Scottish music?
It's all about the song for me. No matter the genre, I love song. My first two folk gigs were within a week of each other in the summer of 1986. My pal, Muddy, took me to see his mentor, Paisley stalwart Davey Speirs lead a session and the following weekend I went to both nights of the Glasgow Folk Festival. I hear so many new-to-me- songs over those 3 nights. It changed my life.
I quickly found my way to the work of Morris Blythman, Jim McLean and all who came under that musical stream. These writers and performers formed my political views and taught me the history that had never been taught at school.
Any particular career highlights?
Doing in-depth radio interviews with a bunch of heros. Dick Gaughan, Ian McCalman, Barbara Dickson, Alastair McDonald, Jim McLean, Rab Noakes, Arthur Johnstone, Ewan McVicar and many more. In particular, keeping the work of Jim McLean alive.
As a musician, creating the Morris Blythman Centenary Concert at Celtic Connections 2019 and being part of the forthcoming Jim McLean recording and concert project.
What are your plans for the future?
To continue to collect and broadcast otherwise unavailable folk recordings. That's the core purpose of the show.
And to keep on performing. I can't stop now.
Ballads & Balladeers Celtic Music Radio Social Media
Website: https://www.celticmusicradio.net/members/gavin-paterson/
Facebook: @https://www.facebook.com/groups/159810597863334
Twitter: @
Instagram: @
YouTube: @https://www.youtube.com/channel/UCqUbjM2Ij3XLEkgr7RlK7Ug
TikTok: @
The 2022 MG ALBA Scots Trad Music Awards are back to normal on the 4th December 2022! You will be able to watch it live in person (buy a ticket here),Watch it live in the UK at 9pm (GMT) on BBC ALBA and and around the world here. Bands performing on Sunday 4th December include Elephant Sessions, Fara, Trip, Eryn Rae Trio, The Auldeners, Gordon Shand Scottish Dance Band, Irish Minstrels, Tayside Young Fiddlers, and a James Alexander Tribute.
If you would like to support Hands Up for Trad in their work with Scottish trad music and musicians why not become a friend of Hands Up for Trad. In addition to our high profile events like the Scots Trad Music Awards, we also deliver a less well known, education programme for young people from 8yrs right through to young adults at the start of their careers. Read more here.