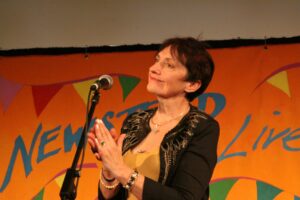 Congratulations to Anne Martin who has been nominated in Gaelic Singer of the Year sponsored by The Highland Society of London in the MG ALBA Scots Trad Music Awards 2022. Vote for Anne Martin now!. It's going to be another great night at the MG ALBA Scots Trad Music Awards on Sunday 4th December in Dundee's Caird Hall. Why not join us for a brilliant night of music and awards. Buy a ticket here.
We asked Anne of Anne Martin the following questions.
Tell us about yourself
Anne has been singing and researching Gaelic song since a child, being born and brought up in Trotternish on the Isle of Skye where she learnt a wealth of her tradition from older neighbours and relatives at kitchen tables and firesides.
She is equally at home performing at large festivals, concert halls, or small and intimate village halls and is also a sort after tutor of Gaelic song, having run workshops in a wide variety of places from down town Philadelphia colleges to small Scottish island schools..
She has sung in North America, Australia, India. Sweden, Holland, Czech Republic and has sung at many of the Scottish festivals. She also sang a lead role in the first ever Gaelic opera
More recently she has been involved in various collaberation projects with Indian musicians, beatboxers and electronica sound artists who have all recognised and appreciated the depth of her roots, knowledge and culture, which in turn has given a depth to any performance or recording.
Sharing her music on all levels is as important as performing on stage and work with the Youth Music Initiative and other tutoring networks has been an integeral part of what she does.
Her latest project An Tinne linked, culture across time and distance used a slabharaidh, a chain which held a cooking pot above a fire which travelled Skye to Australia in the 1800's. It commissioned new work from Scottish Gaelic, Modern Australian and Indigenous Aboriginal poets and musicians as well as reimagining local song.
It has been said that whilst being utterly rooted in her culture, she has always been 'ahead of the wave'
She has recorded two CD's and guested on numerous others.
Why are you involved in Scottish music?
Music is part of my DNA. The link with the language, environment and community is intrinsic to who I am. Sharing is integral to my make up whether it be performing at large festivals, or workshops with youngsters. It is all the same thing. Culture is to be celebrated and lived and the tradition whilst precious is not sedentary. Developing, collaborating, exploring and reimagining whilst being thouroughly rooted is a joy.
Any particular career highlights?
2022
An Tinne – The incredibly powerful project linking Skye, Australia and Aboriginal experience https://www.youtube.com/watch?v=SwrdX4BAmhE&t=567s
Kistvaen@Sonica – The collaboration with electonica sound artist Roly Porter https://www.dailymotion.com/video/x88tvoc
2017
PRS New Music Bienniel Award Winner – Collaboration with Indian and British musicians exploring migration clearance and partition.
https://atlasarts.org.uk/programme/footsteps
Yurramboi Indigenous Festival Creation Lab – A gathering of indigenous creatives in Melborne
https://www.youtube.com/watch?v=mzbHW_sYCdQ
2005
The Storr Unfolding Lansdcape – Performing on a mountainside in a unique lighting event
https://www.youtube.com/watch?v=TsC9OUntp9Y
1999
Scathach – A main part in the first ever Gaelic Opera
2014-15
Organising the Ceol on the Croft festivals held in north Skye.
What are your plans for the future?
More of the same!
Development of the An Tinne project through recording and touring hopefully to Australia.
Production of the 'Catriona Douglas' song collection in book and multi media format
And now my kids have spread their wings I hope to tour more, share more snd learn more.
Anne Martin Social Media
Website: http://www.annemartin.scot
Facebook: https://www.facebook.com/annemartin.gaelicsong
Twitter: @kilmuirsong
Instagram: @annemartinsong
YouTube: https://www.youtube.com/channel/UCdC1AH6W02bxqn9XlDWbKPA
TikTok: @
The 2022 MG ALBA Scots Trad Music Awards are back to normal on the 4th December 2022! You will be able to watch it live in person (buy a ticket here),Watch it live in the UK at 9pm (GMT) on BBC ALBA and and around the world here. Bands performing on Sunday 4th December include Elephant Sessions, Fara, Trip, Eryn Rae Trio, The Auldeners, Gordon Shand Scottish Dance Band, Irish Minstrels, Tayside Young Fiddlers, and a James Alexander Tribute.
If you would like to support Hands Up for Trad in their work with Scottish trad music and musicians why not become a friend of Hands Up for Trad. In addition to our high profile events like the Scots Trad Music Awards, we also deliver a less well known, education programme for young people from 8yrs right through to young adults at the start of their careers. Read more here.