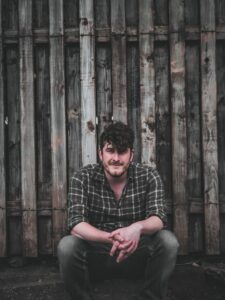 Congratulations to Andrew Waite who has been nominated in Musician of the Year sponsored by The University of the Highlands and Islands in the MG ALBA Scots Trad Music Awards 2022. Vote for Andrew Waite now!. It's going to be another great night at the MG ALBA Scots Trad Music Awards on Sunday 4th December in Dundee's Caird Hall. Why not join us for a brilliant night of music and awards. Buy a ticket here.
We asked Andrew of Andrew Waite the following questions.
Tell us about yourself
I am an accordionist originally from the Scottish Borders, now living in Glasgow. My music is rooted within Scottish and Irish traditional music but takes influence from a range of different genres including gypsy jazz, french musette and bluegrass. I spent the majority of my career playing in a number of successful bands, however within the last few years I have been pursuing my goals making solo material, with my second solo album soon to be released in early 2023.
Why are you involved in Scottish music?
I first picked up an accordion when I was 5 years old, following in the footsteps of my papa who was a dance band accordionist. He would play at family gatherings and we would squeeze in our tiny kitchen to ceilidh dance all night, a memory that has really stuck with me. It didn't take long for my passion for music to take off, allowing me to put my own personal tastes and interests into practice in a way that I hadn't seen be done before. The community of people that I have met over these years has been one of my biggest inspirations to continue doing what I have been doing. I am very grateful for the opportunities I've had to meet such talented, inspirational and really lovely people within this industry and am excited to see how those opportunities and relationships evolve in the future.
Any particular career highlights?
I was able to record at Peter Gabriel's studio 'Real World Studios' with Eliza Carthy to create her album 'Big Machine'. Also, playing at the BBC Proms at the Royal Albert Hall will always be a treasured memory for me. Additionally, a few years ago Dallahan were invited to Nepal to collaborate with a Nepalese band as part of a celebration of 200 years of Nepalese and British relations, I still often think about this experience and how it shaped my music.
What are your plans for the future?
I'm in the process of releasing my second solo album 'Self Portrait 2022' which is a completely solo album of my own compositions, mainly created during the pandemic. One of my bands, Dallahan, are currently recording their fourth studio album and will be released next Spring. I am looking forward to busy year of tours in 2023, and in the years following, both as a solo artist and with a range of other musicians.
Andrew Waite Social Media
Website: https://andrewwaitemusic.co.uk/
Facebook: @ https://www.facebook.com/AndrewWaiteMusic
Twitter: @
Instagram: @andrew.Waite.accordion
YouTube: https://youtube.com/channel/UCFHNYFDsVXmwLF2MYYNDvKA
TikTok: @andrewwaite.music
The 2022 MG ALBA Scots Trad Music Awards are back to normal on the 4th December 2022! You will be able to watch it live in person (buy a ticket here),Watch it live in the UK at 9pm (GMT) on BBC ALBA and and around the world here. Bands performing on Sunday 4th December include Elephant Sessions, Fara, Trip, Eryn Rae Trio, The Auldeners, Gordon Shand Scottish Dance Band, Irish Minstrels, Tayside Young Fiddlers, and a James Alexander Tribute.
If you would like to support Hands Up for Trad in their work with Scottish trad music and musicians why not become a friend of Hands Up for Trad. In addition to our high profile events like the Scots Trad Music Awards, we also deliver a less well known, education programme for young people from 8yrs right through to young adults at the start of their careers. Read more here.