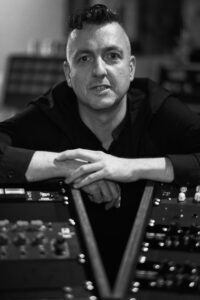 Congratulations to Andrea Gobbi who has been nominated in Studio Engineer of the Year in the MG ALBA Scots Trad Music Awards 2022. Vote for Andrea Gobbi now!. It's going to be another great night at the MG ALBA Scots Trad Music Awards on Sunday 4th December in Dundee's Caird Hall. Why not join us for a brilliant night of music and awards. Buy a ticket here.
We asked Andrea of Andrea Gobbi the following questions.
Tell us about yourself
Music Producer, Recording, Mixing and Mastering Engineer based at GloWormRecording, Glasgow
Why are you involved in Scottish music?
I love the sense of community around Scottish music, how inclusive it is and how this contributes to an enormous level of creativity!
Any particular career highlights?
Working with orchestras.. I've had the opportunity, over the years, to do work with a few different orchestras, both as a performer and as a mixing engineer.. and I have loved the challenge every time! Mixing the audio for the Celtic Connections TV productions of the Qawwali Project with the SCO was amazing, as well as Niteworks and the SSO performing together some of the material I had the honour to produce!
What are your plans for the future?
The last 4 or 5 years have been crucial for developing my mastering skills… I'd like to develop that side of my engineering further and perhaps look into mastering for Dolby Atmos over the next few years..
Andrea Gobbi Social Media
Website: https://andreagobbi.co.uk
Facebook: https://www.facebook.com/andreagobbimusicproduction/
Twitter: https://twitter.com/agobbi_music
Instagram: https://www.instagram.com/andreagobbimusicproduction
YouTube: @
TikTok: @
The 2022 MG ALBA Scots Trad Music Awards are back to normal on the 4th December 2022! You will be able to watch it live in person (buy a ticket here),Watch it live in the UK at 9pm (GMT) on BBC ALBA and and around the world here. Bands performing on Sunday 4th December include Elephant Sessions, Fara, Trip, Eryn Rae Trio, The Auldeners, Gordon Shand Scottish Dance Band, Irish Minstrels, Tayside Young Fiddlers, and a James Alexander Tribute.
If you would like to support Hands Up for Trad in their work with Scottish trad music and musicians why not become a friend of Hands Up for Trad. In addition to our high profile events like the Scots Trad Music Awards, we also deliver a less well known, education programme for young people from 8yrs right through to young adults at the start of their careers. Read more here.