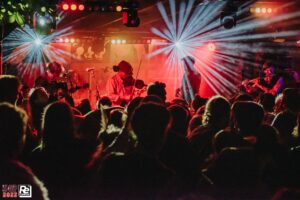 Congratulations to An Dannsa Dub – Tom Spirals & Euan McLaughlin who has been nominated in Original Work of the Year sponsored by Gordon Duncan Memorial Trust in the MG ALBA Scots Trad Music Awards 2022. Vote for An Dannsa Dub – Tom Spirals & Euan McLaughlin now!. It's going to be another great night at the MG ALBA Scots Trad Music Awards on Sunday 4th December in Dundee's Caird Hall. Why not join us for a brilliant night of music and awards. Buy a ticket here.
We asked Euan of An Dannsa Dub – Tom Spirals & Euan McLaughlin the following questions.
Tell us about yourself
An Dannsa Dub (The Dub Dance in Gaelic) is the brainchild of dub vocalist & producer Tom Spirals and Scottish traditional musician Euan McLaughlin formed in 2020. The 6 piece live band fuses the mystical energy and instruments of traditional Scottish music and Gaelic song with the heavy, meditative, driving basslines digital dub music. The band is a unique mix of experienced traditional folk musicians and Dub Reggae specialists, using acoustic and digital instruments. The result is an explosive heavyweight blend of what the band call 'Future Dub from Ancient Scotland'.
Why are you involved in Scottish music?
My parents are folk musicians so I have always been around and always wanted to put a stamp on it and take it somewhere new so when the chance came up to collaborate with Tom I jumped on it as a great opportunity to take the music somewhere else.
Any particular career highlights?
As a project we've had an incredible first year getting to perform to some amazing crowds at some of the most exciting festivals across the UK including a massive show at Boomtown Fair. Tonight we're set to play our first ever show in our hometown of Glasgow to a sold out Slay alongside a massive line up of trad and dub artists!
We've both spent years touring internationally with a huge range of different artists performing across Europe, India, Australia and more and have played at some of the worlds largest events including having both performed at Glastonbury.
What are your plans for the future?
We've just brought out the first single from our upcoming album set for release in 2023. We've got some exciting collaborations in the works and are backed by the amazing An Dannsa Dub band – Nicky Kirk, Maxi Roots and Ben Parkinson. We'll also be touring throughout next year promoting the new record!
An Dannsa Dub – Tom Spirals & Euan McLaughlin Social Media
Website: https://www.andannsadub.com/
Facebook: @andannsadub
Twitter: @
Instagram: @andannsadub
YouTube: @andannsadub
TikTok: @
The 2022 MG ALBA Scots Trad Music Awards are back to normal on the 4th December 2022! You will be able to watch it live in person (buy a ticket here),Watch it live in the UK at 9pm (GMT) on BBC ALBA and and around the world here. Bands performing on Sunday 4th December include Elephant Sessions, Fara, Trip, Eryn Rae Trio, The Auldeners, Gordon Shand Scottish Dance Band, Irish Minstrels, Tayside Young Fiddlers, and a James Alexander Tribute.
If you would like to support Hands Up for Trad in their work with Scottish trad music and musicians why not become a friend of Hands Up for Trad. In addition to our high profile events like the Scots Trad Music Awards, we also deliver a less well known, education programme for young people from 8yrs right through to young adults at the start of their careers. Read more here.