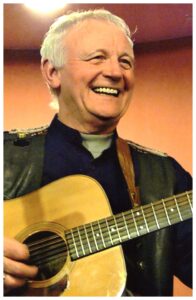 Congratulations to Alastair McDonald who has been nominated in Citty Finlayson Scots Singer of the Year sponsored by Traditional Music and Song Association in the MG ALBA Scots Trad Music Awards 2022. Vote for Alastair McDonald now!. It's going to be another great night at the MG ALBA Scots Trad Music Awards on Sunday 4th December in Dundee's Caird Hall. Why not join us for a brilliant night of music and awards. Buy a ticket here.
We asked ALASTAIR of Alastair McDonald the following questions.
Tell us about yourself
Alastair McDonald has been a performer on a full time basis since 1970 & has built up a successful career not only in his native Scotland, but on numerous occasions has been invited to take his own style of musical entertainment to locations as diverse as America, Canada, Germany, Denmark, Israel, Thailand, East Africa & the Arab Emirates. Never one to be easily tied down to pigeon-hole categories, he is probably best known as "…the folk singing jazz banjo-player from Scotland…" except for those areas in which he's known as "…the Scottish jazz banjo-playing folk singer…" !
Alastair's radio & TV credits are too numerous to list here, likewise his recordings, but even without these, the fact that he was invited twice within the space of three years to front a coast to coast touring show across Canada & the United States (every state except Hawaii & Alaska!) must surely speak for itself. His concert programme can vary from a Scottish historical ballad to a humorous music hall ditty – from a Gaelic lament to a hand clapping American Negro Gospel song – not mere versatility for its own sake, but rather a genuine desire to share some of the very best at an entertaining & contextual level.
You will find Alastair McDonald equally at home in a jazz club, folk club, variety show, theatre, concert hall or Church – not because he tailors his performance to the venue of the moment, but rather believes that a solid, entertaining, wholesome, uncompromising, thought provoking repertoire should know no bounds or require an apology wherever it may be performed.
Why are you involved in Scottish music?
As a native-born Scot who was removed from Scotland for Australia at a young age I was more than fortunate on my return to fall in with Morris Blythman, schoolteacher poet, writer & activist who`s colossal knowledge of Scotland & Scottish affairs informed me greatly of the land of my birth. I was also privileged to be asked to guitar accompany some of the really great Gaelic singers which furthered my knowledge of that area.
Any particular career highlights?
To perform Scottish songs regularly on TV, radio, theatre 60s to 90s (give or take).
What are your plans for the future?
At 81 it`s to waken up tomorrow.
Alastair McDonald Social Media
Website: https://alastairmcdonald2.bandcamp.com/
Facebook: @
Twitter: @
Instagram: @
YouTube: @
TikTok: @
The 2022 MG ALBA Scots Trad Music Awards are back to normal on the 4th December 2022! You will be able to watch it live in person (buy a ticket here),Watch it live in the UK at 9pm (GMT) on BBC ALBA and and around the world here. Bands performing on Sunday 4th December include Elephant Sessions, Fara, Trip, Eryn Rae Trio, The Auldeners, Gordon Shand Scottish Dance Band, Irish Minstrels, Tayside Young Fiddlers, and a James Alexander Tribute.
If you would like to support Hands Up for Trad in their work with Scottish trad music and musicians why not become a friend of Hands Up for Trad. In addition to our high profile events like the Scots Trad Music Awards, we also deliver a less well known, education programme for young people from 8yrs right through to young adults at the start of their careers. Read more here.