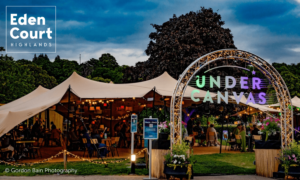 Congratulations to Under Canvas – Eden Court who have been nominated in Event of the Year sponsored by VisitScotland in the MG ALBA Scots Trad Music Awards 2021. Vote here! Vote now!
We asked Seona McClintock of Under Canvas – Eden Court the following questions.
Tell us about yourself
Under Canvas is Eden Court's flagship summer festival, co-curated with Fèis Rois, with traditional and folk music at its heart.
Taking place in a beautiful stretch tent on our lawn, on the banks of the River Ness, it has become a go-to summer destination for locals and tourists alike. We offer some of the best live music Scotland has to offer, alongside a pop-up bar and wood-fired pizza, all in a welcoming and relaxed environment.
In 2021 we generated 287 paid performance opportunities for freelance musicians, across 112 sessions, and welcomed over 7000 audience members.
Eden Court in Inverness is Scotland's largest multi-arts venue, serving communities on our doorstep and across the Highlands.
Why are you involved in Scottish music?
Scottish music is the beating heart of our culture and plays a vital part in Eden Court's mission to bring the world to the Highlands and the Highlands to the world.
The area is home to a thriving music scene and a rich musical tradition and Under Canvas was established to showcase these to our audiences from far and wide. We are surrounded by so much musical talent and it's a privilege to present it on our stages, indoor and out, and hear it spilling out through the city.
Any particular career highlights?
This year, in association with Highland Council's 'Summer of Hope' we presented 'Under Canvas Across the Highlands' for the first time in six communities across the region. We took our iconic tent on the road and pitched up in towns and villages from Wick to Ballachulish with our house band and a series of renowned guest artists, alongside creative activities for young people during the school holidays.
It was a highlight for us to share the joy of Under Canvas with even more people after such a challenging period, and create 24 extra gigs for musicians, crew and audiences.
What are your plans for the future?
Under Canvas has gone from strength to strength in its first three years and we plan to keep building on that. We are already planning for next year, with a focus on how we might make the festival as sustainable and planet-friendly as possible.
Under Canvas is at the centre of our efforts to celebrate and promote Gaelic and we'll be taking strides forward next year towards our ambition to be a proudly bilingual festival.
Read more about Under Canvas – Eden Court
Under Canvas – Eden Court Social Media
http://eden-court.co.uk
Facebook: https://www.facebook.com/edencourttheatre
Twitter: https://twitter.com/edencourt
Instagram: https://www.instagram.com/edencourttheatrecinema/
http://www.youtube.com/:
http://www.tiktok.com/:
Unfortunately due to Covid there are no tickets for sale to the 2021 MG ALBA Scots Trad Music Awards. You will be able to watch it live in the UK at 7pm (GMT) on BBC ALBA and here. Bands performing on Saturday 4th December include Dàimh, Ìmar, Hannah Rarity, Strathspey Day Band and more to be announced.
If you would like to support Hands Up for Trad in their work with Scottish trad music and musicians please consider supporting our Patreon campaign. We have 3 tiers starting at $1 a month and everything helps support us in our work. Read more at www.patreon.com/handsupfortrad