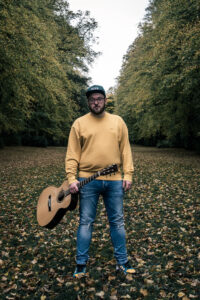 Congratulations to Ron Jappy who have been nominated in Online Performance of 2021 sponsored by Gordon Duncan Memorial Trust in the MG ALBA Scots Trad Music Awards 2021. Vote here! Vote now!
We asked Ron Jappy of Ron Jappy the following questions.
Tell us about yourself
A Graduate of the Royal Scottish Academy of Music & Drama Ron Jappy is an extremely accomplished musician, highly sought after as an arranger, guitarist, fiddle player and pianist.
Originally from the small coastal village of Findochty in the North East of Scotland, Ron has always had a passion for performing and teaching and from a young age has made the best of opportunities presented to him. Influenced by a broad range of fantastic musicians and teachers, Ron has had a number of experiences presented to him through the rich and vibrant music scene of his current residence, Glasgow.
Why are you involved in Scottish music?
I've always had a love of traditional music, and I am particularly passionate about accompaniment. Being an accompanist is amazing, it truly is. I feel so lucky to be able to play with such a diverse range of talented musicians and seeing how this influences, shapes and inspires me as a player.
The role of an accompanist is crucial to the success of any performance; I have to support and enhance the performer and help deliver what they are trying to convey. It is often an exciting and creative process that demands an assured and versatile approach, never overpowering and never detracting from the main message.
Any particular career highlights?
Recording and releasing my debut album, Vincular
BBC Hogmanay Show with the Scott Wood Band
Ortigueira's Festival of Celtic World with the Scott Wood Band and the National Youth Pipe Band of Scotland
4 week tour of New Zealand with Rachel Hair
Austrian tour with Rachel Hair
What are your plans for the future?
Next year I am looking to take Vincular on the road and embark on a Scottish tour. We've never played it to a live audience, only virtually so it should be a lot of fun.
I also have some tours planned with Rachel Hair as well and some other work with Joy Dunlop too.
Read more about Ron Jappy
Ron Jappy Social Media
http://www.ronjappy.com
Facebook: http://www.facebook.com/RonJappyMusic
Twitter: http://www.twitter.com/RonJappyMusic
Instagram: http://www.instagram.com/rjappy89/
http://www.youtube.com/c/RonJappy:
http://www.tiktok.com/:
Unfortunately due to Covid there are no tickets for sale to the 2021 MG ALBA Scots Trad Music Awards. You will be able to watch it live in the UK at 7pm (GMT) on BBC ALBA and here. Bands performing on Saturday 4th December include Dàimh, Ìmar, Hannah Rarity, Strathspey Day Band and more to be announced.
If you would like to support Hands Up for Trad in their work with Scottish trad music and musicians please consider supporting our Patreon campaign. We have 3 tiers starting at $1 a month and everything helps support us in our work. Read more at www.patreon.com/handsupfortrad