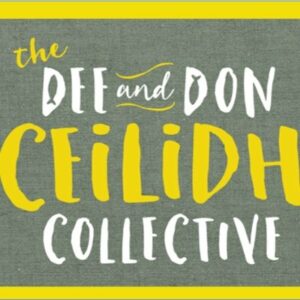 Congratulations to Our Living Rivers and Glens from The Dee and Don Ceilidh Collective who have been nominated in Community Project of the Year sponsored by Greentrax Recordings. in the MG ALBA Scots Trad Music Awards 2021. Vote here! Vote now!
We asked Shona Donaldson of Our Living Rivers and Glens from The Dee and Don Ceilidh Collective the following questions.
Tell us about yourself
It has been a difficult 18 months for so many of us in so many ways. The Dee and Don Ceilidh Collective were are delighted to launch our new free online project, creating a new 'at home' collection of new tunes and songs entitled 'OUR LIVING RIVERS AND GLENS'. The project has encouraged folk to explore their local environment and to collect their responses in word, sound, video and images, which have then been uploaded to an amazing online map; a work of art in itself. Our composers have drawn inspiration from the map and met with participants through online Zoom workshops in the summer so they have been involved in the creative process from the beginning. There have been both inspiration and composition workshops and the music workshops run through until mid November. The new tunes will also be published towards the end of the year in a new Dee and Don Ceilidh Collective tune book and recorded for streaming and downloading for learning purposes.
Many of our artists, composers and tutors have been involved with the Dee and Don Ceilidh Collective in our face-to-face workshops in prior years. Gill Russell and Pete Stollery have led the sound mapping. Adam Sutherland, Jenny Sturgeon, Paul Anderson, Arthur Coates, Charlie McKerron, Shona Donaldson, Iona Fyfe, Fraser Fifield and Hamish Napier have created the new tunes and songs. Our fantastic local tutors Grace Banks, Averil Blackhall, Carola MacCallum, Pete MacCallum have been on hand to support the arrangements and teaching.
It is a completely free project is supported by Creative Scotland.
Why are you involved in Scottish music?
The Dee and Don Ceilidh Collective are all about people, place and music. It's a vibrant music initiative in communities across NE Scotland since 2016 serving:
-participants working side-by-side with tutors – hundreds of members and Facebook followers
-performers in workshops, inclusive sessions and guest slots to build confidence
-tutors with strong local ties to the area and global reputations, supporting them with income and activity
We've realised our aims across central Aberdeenshire by:
-weekend workshops each quarter rotating around villages across our region. Classes, plenary sessions, inclusive sessions and evening ceilidhs
-tune book of slow session tunes and songs, chosen and 'road tested' by tutors and participants
-community partnerships with village halls, schools, community centres, hotels, bars and festivals
The Dee and Don Ceilidh Collective was formed as a Scottish charity with the following objectives:
a. the advancement of education in music and dance, particularly, but not exclusively that of the north-east of Scotland
b. the advancement of arts, culture and heritage through participative events celebrating culture past and present in Upper Deeside and Donside
We have an active committee of volunteers.
… a highly motivated and organised team … the perfect example of what a community-led effort to bring music and culture to a local area looks like … I can vouch first hand for the enthusiasm and abundance of commitment that these lovely folk possess."
Adam Sutherland
Any particular career highlights?
We have been so lucky to have been able to bring such wonderful and well respected tutors to our weekend workshops. Our workshops are always such fun and it is a joy to be able to connect so many people through music and dance in what is a rural area.
We moved online with Our Living Rivers and Glens project in 2021 and not only have we been able to connect people globally and share some fantastic new tunes and songs but we've been able to support the composers and tutors in what has been an extremely difficult period for those working in the arts. Hearing the tunes and songs which have emerged from the project and having such enthusiasm from the composers, tutors and participants has been a particular highlight.
What are your plans for the future?
We are looking forward to launching Our Living Rivers and Glens book later in the year and having a celebration to mark the end of the project. We are also excited about getting back to our face-to-face events next year with lots of tunes, songs, teaching, sessions, dancing and fun!
Read more about Our Living Rivers and Glens from The Dee and Don Ceilidh Collective
Our Living Rivers and Glens from The Dee and Don Ceilidh Collective Social Media
https://deedonceilidhcollective.com/
Facebook: http://www.facebook.com/deedonceilidhcollective
Twitter: https://twitter.com/DeeDonCeilidh
Instagram: http://www.instagram.com/
http://www.youtube.com/:
http://www.tiktok.com/:
Unfortunately due to Covid there are no tickets for sale to the 2021 MG ALBA Scots Trad Music Awards. You will be able to watch it live in the UK at 7pm (GMT) on BBC ALBA and here. Bands performing on Saturday 4th December include Dàimh, Ìmar, Hannah Rarity, Strathspey Day Band and more to be announced.
If you would like to support Hands Up for Trad in their work with Scottish trad music and musicians please consider supporting our Patreon campaign. We have 3 tiers starting at $1 a month and everything helps support us in our work. Read more at www.patreon.com/handsupfortrad