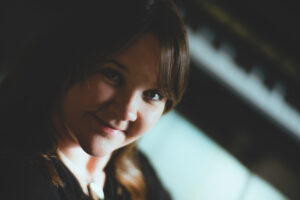 Congratulations to Mhairi Hall who have been nominated in Musician of the Year sponsored by The University of the Highlands and Islands in the MG ALBA Scots Trad Music Awards 2021. Vote here! Vote now!
We asked Mhairi Hall of Mhairi Hall the following questions.
Tell us about yourself
Mhairi was born and brought up in Aviemore in the central Highlands, and has recently returned there to live with her family. She has performed internationally and recorded with many leading musicians, bands and singers and is regarded as one of the finest and most creative pianists from Scotland. She received the Hands up for Trad IGNITION AWARD 2020 for 'Innovation in Music'. Mhairi's Airs project collaborated with Scottish landscape artist Beth Robertson Fiddes and is currently touring Scotland as a concert and exhibition. Airs has received beautiful reviews throughout print and digital media and has been praised by award winning Scottish author Ali Smith in the New York Times and Guardian.
Mhairi is also working with sound recordist David de la Haye collecting previously unheard underwater sounds from the Cairngorms, and composing music using these sounds.
Mhairi has two previous self-releases; her debut album 'Cairngorm' with her Trio, and follow up 'Contours of Cairngorm' with Patsy Reid and the Edinburgh Quartet.
A successful producer, Mhairi works with a diverse range of musicians and is currently finishing a second album for Gaelic singer and bard, Gillebride MacMillan.
Why are you involved in Scottish music?
I love it! It has been a part of my life for as long as I can remember and I love that as a job it gives so much variety in the types of work you can do and the people you meet.
Any particular career highlights?
A high-light was literally taking a grand piano to the top of Cairngorm mountain for 'Cairngorm' album launch.
What are your plans for the future?
To create more interesting music, and collaborate with more inspiring people. Continue to record the unknown in my home area. Make more albums for others. Help support the arts.
Read more about Mhairi Hall
Mhairi Hall Social Media
http://mhairihall.com
Facebook: http://www.facebook.com/mhairihall
Twitter: http://www.twitter.com/mhairihall
Instagram: http://www.instagram.com/mhairi.hall
http://www.youtube.com/strathrecords:
http://www.tiktok.com/:
Unfortunately due to Covid there are no tickets for sale to the 2021 MG ALBA Scots Trad Music Awards. You will be able to watch it live in the UK at 7pm (GMT) on BBC ALBA and here. Bands performing on Saturday 4th December include Dàimh, Ìmar, Hannah Rarity, Strathspey Day Band and more to be announced.
If you would like to support Hands Up for Trad in their work with Scottish trad music and musicians please consider supporting our Patreon campaign. We have 3 tiers starting at $1 a month and everything helps support us in our work. Read more at www.patreon.com/handsupfortrad