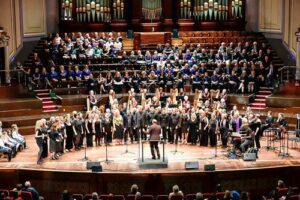 Congratulations to Làn-Dùil – Soisgeul Gaelic Gospel Choir Online Festival who have been nominated in Online Performance of 2021 sponsored by Gordon Duncan Memorial Trust in the MG ALBA Scots Trad Music Awards 2021. Vote now!
We asked Mary Ann Kennedy of Làn-Dùil – Soisgeul Gaelic Gospel Choir Online Festival the following questions.
Tell us about yourself
Soisgeul is a nationwide choir, with membership open to all singers with an interest in Gaelic choral singing and a focus on spiritual and Gospel songs. The choir gathers a couple of times a year in locations across Scotland to rehearse material for performances that have ranged from an appearance at Solas festival in Perthshire, singing in Iona Abbey, the BBC ALBA televised Christmas service and a showcase at the Royal National Mòd. The choir's current Artistic Director is acclaimed musician and composer, Mary Ann Kennedy, and the choir's guest director is renowned Gospel Choir Director, Gareth Fuller.
Why are you involved in Scottish music?
Gaelic singers just love to sing together! 'Mòd Saturday' sees all the regional Gaelic choirs come together to celebrate and sing farewell; many choristers participate in Ireland's Pan-Celtic festival in various formal and informal groups; and there have been many ground-breaking events including the 1990s Usher Hall concerts and Mary Ann Kennedy's reimagining of the Gaelic psalms – Lasair Dhè. Until now, however, there has been no nationwide choir, despite much debate.
Gaelic choral music is really a broad collection of influences, rooted in the Gaelic language and with song at its heart. This includes traditional and folk music, indigenous and Western classical music, and other genres including jazz and rock. There's also been exploration in Scotland and the US into connections between Presbyterian psalm-singing and worship forms at the roots of contemporary black music.
The formation of Soisgeul in 2015 was an exciting new step for Gaelic choristers – 'neutral territory' for choristers (and non-choristers) to create something different that connects with other major musical worlds, and a chance to lead the way in exploring new territory for Gaelic music. Thanks to TV producer Nick Low for being the catalyst for a great idea!
Any particular career highlights?
We started on a high with our first meeting on the holy isle of Iona, where Mary Ann and Gareth met for the first time as a kind of musical blind date set up by the president, Jackie Cotter. The music we created on that first weekend proved that the common ground between gospel and Gaelic was a powerful combination. We've gone on to perform at the Royal National Mòd and on BBC ALBA, but the most important event we've held so far in many ways has been the Làn Dùil festival – held to keep the faith online with choir singers who were cut off from their singing communities and longing to share great music together. The workshops and big cèilidh that we held over that weekend were some of the most uplifting musicmaking that many of us have ever been involved in. Given that the last group singing most of us had participated in in real life was a previous Soisgeul weekend just 24 hours before lockdown, Làn Dùil took on a huge significance for all the Soisgeul singers. Here we are in action: https://www.soisgeul.com/home
Huge thanks to An Comunn Gàidhealach for the tech support that made the weekend such a success and to Bòrd na Gàidhlig, whose funding made the whole thing possible!
What are your plans for the future?
We want to spread the good news – literally! It's a big job to keep a nationwide gathering of Gaelic singers going and the 'new normal' world of hybrid online and IRL musicmaking has its challenges, but we believe that the Làn-Dùil festival showed that we can make this work to everyone's benefit. But we can't wait to get back together again and so our biggest plan for the future is the day that we can all be singing together again, side-by-side.
Read more about Làn-Dùil – Soisgeul Gaelic Gospel Choir Online Festival
Làn-Dùil – Soisgeul Gaelic Gospel Choir Online Festival Social Media
http://www.soisgeul.com
Facebook: http://www.facebook.com/gaelicgospelchoir
Twitter: http://www.twitter.com/
Instagram: http://www.instagram.com/
http://www.youtube.com/:
http://www.tiktok.com/:
Unfortunately due to Covid there are no tickets for sale to the 2021 MG ALBA Scots Trad Music Awards. You will be able to watch it live in the UK at 7pm (GMT) on BBC ALBA and here. Bands performing on Saturday 4th December include Dàimh, Ìmar, Hannah Rarity, Strathspey Day Band and more to be announced.
If you would like to support Hands Up for Trad in their work with Scottish trad music and musicians please consider supporting our Patreon campaign. We have 3 tiers starting at $1 a month and everything helps support us in our work. Read more at www.patreon.com/handsupfortrad